In the earlier morning hours of Friday, workers from J Kumar Infraprojects started pouring concrete to cast the first pier for Mumbai Metro's 11.38 km Line-9 (northern leg of Red Line) which will connect Dahisar East with Mira Bhayandar.
The first pier, P63, is located right across from Thakur Mall near the proposed Pandurang Wadi Station and is estimated to be 9 meters high. I'm told that in total 491 piers will be cast for this line in the north-western suburbs.
The contract of this line's construction under package CA-48 – a northern extension of the under construction 16.5 km Line-7 – was awarded to J Kumar Infraprojects by the MMRDA in January 2020 after they had emerged as the lowest bidder for this line and Line-7A (southern extension of Line-7) in September 2019.
Their scope includes the construction of 3 double-decker viaducts on Kashmira Road measuring 1.5 km, 1.1 km and 754m for vehicles and metro trains, and 7 stations at Pandurang Wadi (interchange with Line-10), Miragaon, Kashigaon, Sai Baba Nagar, Meditya Nagar, Shaheed Bhaghat Singh Garden and Subhash Chandra Bose Ground.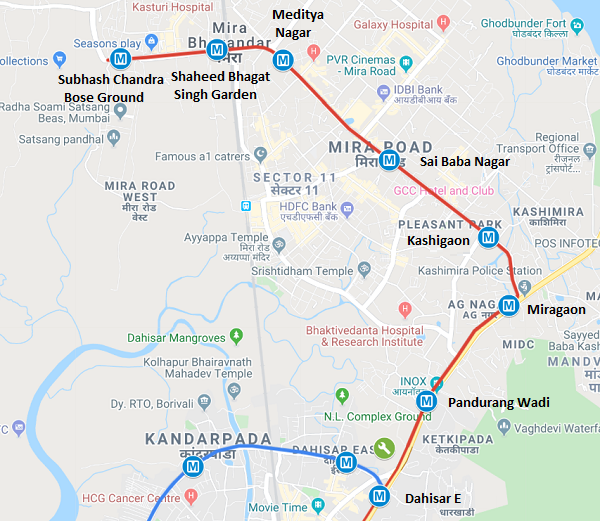 The team had completed casting 100 piles on July 14 and 500 piles on October 31. Some snaps of the first pier:
Casting moulds are expected to be removed mid-next week after which the concrete will be cured by standard gunny bag material.
For more updates, check out the Mumbai section of the Metro Rail Guy!
– TMRG