Réseau Express Métropolitain (REM) on Monday unveiled the first look of their Alstom Metropolis light-rail coaches to carry passengers in Greater Montreal, Canada.
These fully-automated (driverless) 2-coach trains were built at Alstom's Sri City, Andhra Pradesh facility in India and are part of a $1.8 billion contract signed in 2018 for 106 train-sets (212 coaches), Urbalis 400 communication-based train control (CBTC) signaling solution, Iconis control centre solution, platform screen doors, Wi-Fi connectivity, and 30 years of operations and maintenance services.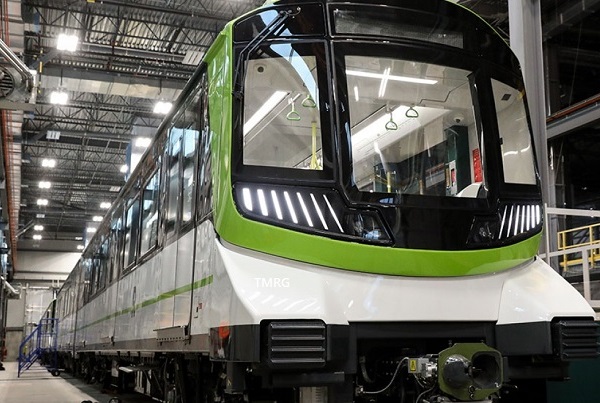 The first four REM coaches, wrapped in a white tarp for extra protection, were dispatched from Sri City through the Chennai Port in September. After a 23 day journey at sea, the coaches arrived at the Port of New York/New Jersey, travelled approximately 800 kms north through the interstate highway system, crossed into Quebec at Saint-Bernard-de-Lacolle, and arrived at the Brossard maintenance workshop on October 21.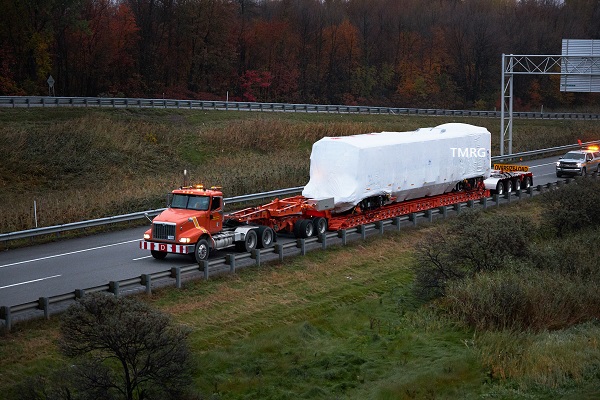 REM's Facebook Live video unveiling the coaches can be viewed here. Here are some specifications from their press release:
Length: 76.20 m (250') at peak hours (4-coach)
Width: 2.94 m (9'8'')
Height: 3.90 m (12'10'') excluding the pantograph
Maximum weight: 232 tonnes
Theoretical capacity: 600 passengers per car
Maximum capacity: 780 passengers per car
Seats: 128
Average Speed: 51 km/h.
The trains have a spacious interior with side seating, durable seats, air conditioning (including heat), free WiFi and LCD screens. Per REM, the trains were specifically adapted for the city's climate of hot, humid summers and very cold winters with the following characteristics:
Heated door thresholds and floors
Heated automatic couplers at the ends
Ice protection equipment
Heated windshields
Ice scrapers on the pantographs
A total of 4 REM cars have to-date been delivered to Montreal, and the next set of deliveries are expected to arrive in 2021. Alstom India recently revealed they had completed manufacturing 36 coaches.
In the coming days, the coaches will be coupled (two pairs or two cars), and prepared for testing on a 3.5 km segment from Brossard Stationt to Panama Station. Upon completion, the $6.3 billion REM will be one of the world's largest automated transport networks, 67 km long with 26 stations, and connect downtown Montreal with South Shore, North Shore, West Island and Pierre Elliott Trudeau International Airport – view network route map.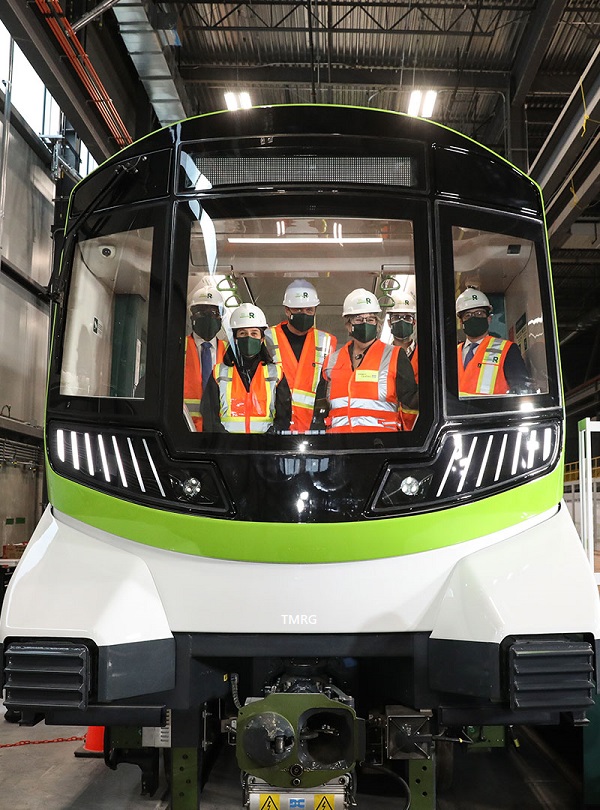 The production and export of these metro coaches is a boost to the Government of India's "Make in India" iniative which aims at turning the country into a global manufacturing destination. Prior to this, Alstom India had built and delivered 132 coaches to Sydney Metro and has now restarted manufacturing 138 coaches for its City and Southwest extensions.
For more updates, check out the Home Page of The Metro Rail Guy!
– TMRG