India's Home Minister in Chennai today remotely inaugurated the foundation stone for the city's 118.9 km Phase 2 project which will feature 3 new metro lines, 127 stations and 2 train maintenance depots.
The project was approved by Tamil Nadu state government's cabinet in 2019 at an estimated cost of Rs. 69,180 crore, and the Central Government's cabinet approval is currently pending. Chennai Metro Rail Ltd. (CMRL) is in advanced discussions with Japan International Cooperation Agency (JICA) to fund part of Line-3 & Line-5, with Asian Infrastructure Investment Bank (AIIB) to fund part of Line-4 & Line-5, and with the Asian Development Bank (ADB) to fund part of Line-3 and Line-4.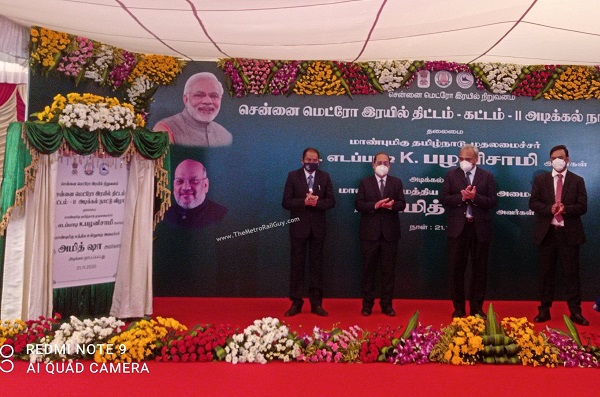 A short 82 second video of the event can be viewed here.
Here are basic details of all 3 lines. Things may change in the coming months as tender notices for different sections get published. For instance, Line-3 no longer features a station at Doveton Junction (see tender notice) and CMRL just revealed to The Hindu, the minor depot at SIPCOT has been dropped.
Line-3 (Purple Line): Madhavaram – SIPCOT 2
Length: 45.813 km (19.09 km elevated & 26.72 km underground)
Depot: Madhavaram
Number of Stations: 49 (20 elevated & 29 underground)
Line-4 (Orange Line): Light House – Poonamallee Bus Depot
Length: 26.09 km (16.02 km elevated & 10.07 km underground)
Depot: Poonamallee
Number of Stations: 30 (18 elevated & 12 underground)
Line-5 (Red Line): Madhavaram – Sholinganallur
Length: 47.0 km (41.17 km elevated & 5.83 km underground)
Depot: Madhavaram
Number of Stations: 48 (41 elevated, 1 at-grade & 6 underground)
A list of all station names and an indicative route map can be viewed here.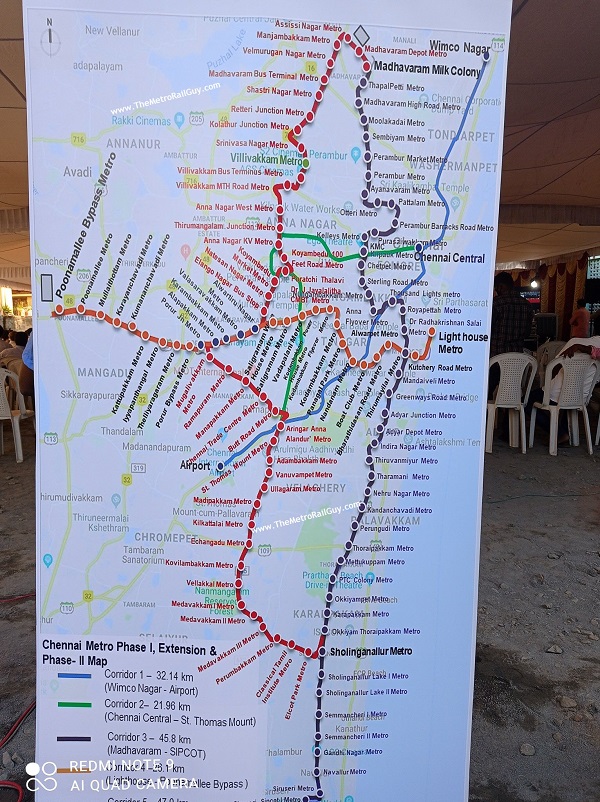 CMRL plans to procure 288 coaches and wet-lease 126 coaches to service these lines. A list of all Phase 2 tenders (bids for 10 civil packages invited so far) and their status can be viewed here.
As part of today's event, preliminary ground work also started to develop the site for Villivakkam Station on Line-5. This is not the start of civil work for the station's construction (its tender notice is currently pending), and just involves relocation of a sewage pumping station and construction of a compound wall, panel room, DG room etc.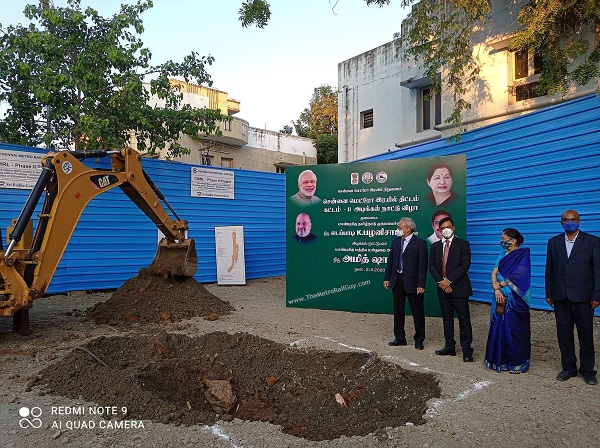 There's been a tremendous uptick in tendering activity for this project's construction over the past couple months, and part of that could perhaps be attributed to the upcoming state legislative assembly elections.
The Central Government's approval for this project is still pending, so to me this was just a bizarre out-of-turn gimmicky event. It is somewhat encouraging though and perhaps a sign that the approval is just around the corner? Either way, this is an exciting project for the city and post completion around 2028 (estimated), the city's network will become 173 km long.
For more updates, check out the Chennai section of The Metro Rail Guy!
– TMRG