India's Ministry of Railways on Friday published a draft of the National Rail Plan (NRP) policy document with a primary aim to create capacity, increase the Indian Railways' modal share from 26% of all transport to 45% by 2030, which in turn would cater to growth in demand right up to 2050.
The 1101 page plan was developed by RITES – AECOM JV and can be accessed here (warning: 61 MB) with timelines and strategies for developing and upgrading the Indian Railways' main-line, high-speed rail (HSR) system and dedicated freight corridors (DFCs).
To me it's merely a recommendation document and ultimately the incumbent government in power will have to decide which projects it wants to pursue based on funding, ridership projections, financial viability and other economic considerations, so I'd recommend everyone to not take it too seriously.
To give a little background, RITES – AECOM JV started preparing the report back in December 2018 and the Ministry of Railways plans to finalize it in January 2021 after taking recommendations from all stakeholders.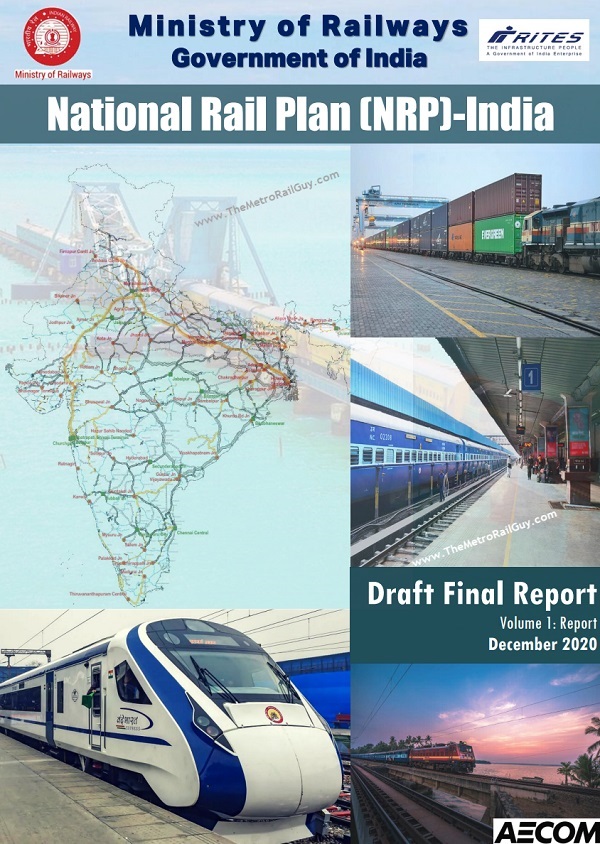 Within this post I plan to concentrate on the High Speed Rail project's development (approx. total = 7897 km) mentioned within the document.
Straight off the bat – the timelines mentioned in it are odd and not aligned with what the National High Speed Rail Corporation (NHSRCL) is already pursuing. For example, it suggests developing 6 corridors (eg. Mumbai – Nagpur HSR) with a target of 2051, but the NHSRCL has over the past 6 months already set into motion the development of their detailed project reports (DPRs) by awarding contracts for survey & traffic study work.
Let's first take a look at the plan objectives shared by the government's Press Information Bureau:
Plan Objectives
To create capacity ahead of demand by 2030, which in turn would cater to growth in demand right up to 2050 and also increase the modal share of Railways from 27% currently to 45% in freight by 2030 as part of a national commitment to reduce Carbon emission and to continue to sustain it. Net Zero Carbon emission by 2030.
To assess the actual demand in freight and passenger sectors, a yearlong survey was conducted over hundred representative locations by survey teams spread all over the country.
Forecast growth of traffic in both freight and passenger year on year up to 2030 and on a decadal basis up to 2050.
Formulate strategies based on both operational capacities and commercial policy initiatives to increase modal share of the Railways in freight to 45% by 2030.
Reduce transit time of freight substantially by increasing average speed of freight trains from present 22Kmph to 50Kmph.
Reduce overall cost of Rail transportation by nearly 30% and pass on the benefits to the customers.
Map the growth in demand on the Indian Railway route map and simulate the capacity behaviour of the network in future.
Based on above simulation identify infrastructural bottlenecks that would arise in future with growth in demand.
Select projects along with appropriate technology in both track work, signalling and rolling stock to mitigate these bottlenecks well in advance.
Within the National Rail Plan, "Vision 2024" has been launched for accelerated implementation of certain critical projects by 2024 such as 100% electrification, multitracking of congested routes, upgradation of speed to 160 kmph on Delhi-Howrah and Delhi-Mumbai routes, upgradation of speed to 130 kmph on all other Golden Quadrilateral-Golden Diagonal (GQ/GD) routes and elimination of all level crossings on all GQ/GD routes.
High Speed Rail Timeline (Phasing)
India's National Infrastructure Pipeline (NIP) has already set into the motion the following 6 new high speed rail corridors in addition to the Mumbai – Ahmedabad HSR (Bullet Train) which will soon be under construction. I've linked them up to their dedicated information pages which includes basic route information with a list of stations, bidding status and contractor information.
In fact earlier this month, NHSRCL invited bids for 2 survey related packages encompassing the Varanasi – Howrah line as well, taking the number of corridors in the proposal stage to 7.
The NRP report proposes the following 13 corridors in total (existing and extensions) with a combined total of 7897 km for enhancing HSR outreach and providing connectivity to other towns en route.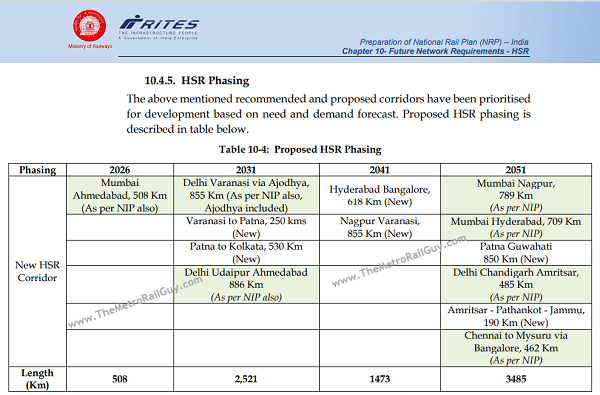 High Speed Rail Development Suggestions
The NRP report highlights the following suggestions for new corridors with an aim to meet growing passenger demand, and to optimize high-speed rail connectivity between major cities / commercial / economic centres.
The below information from the NRP report has been posted verbatim (not my thoughts):
Delhi- Chandigarh- Ludhiana – Jalandhar- Amritsar HSR Corridor is recommended to be extended to Jammu via Pathankot for enhancing regional connectivity and for giving economic boost to the Jammu and Pathankot Region. It will cater to the religious tourism potential of Vaishno Devi Shrine and other places.
Delhi- Agra- Kanpur- Lucknow- Varanasi- HSR corridor is recommended to route via Ayodhya due to Religious Tourism Potential.
Delhi- Agra- Kanpur- Lucknow- Varanasi- HSR corridor is also recommended to be extended to connect Patna and Kolkata.
Additional HSR Line from Patna to Guwahati via Katihar and New Jalpaiguri thereby connecting Guwahati with Delhi Varanasi Kolkata HSR Corridor.
Additional HSR Line between Hyderabad and Bengaluru by extending
Mumbai Hyderabad HSR Line. This shall connect Mumbai with Chennai and also will bring North India from Jammu – Amritsar – Delhi – Jaipur – Ahmedabad – Mumbai – Hyderabad – Bengaluru – Chennai on HSR corridor and all the major towns of North, West and South India shall be connected with 1 HSR Corridor. This will help in boosting the regional economy.
Additional HSR line is proposed between Nagpur and Varanasi by extending the Mumbai – Nashik – Nagpur HSR Corridor. This shall connect Mumbai with Varanasi which will further connect with Delhi – Varanasi – Patna – Guwahati HSR corridor.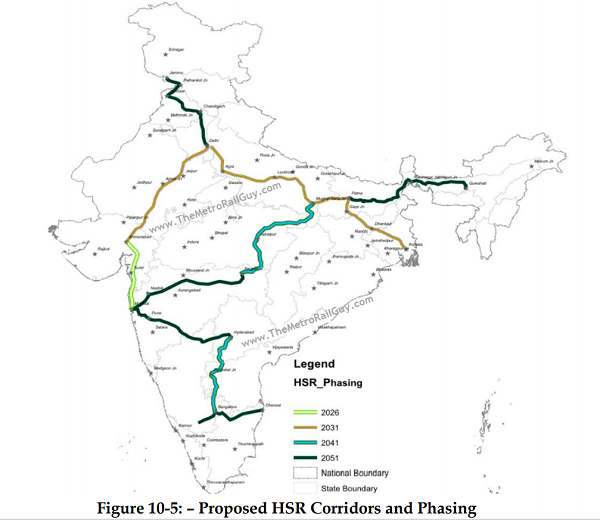 Concluding thoughts – the report was prepared by consultants and doesn't take into account ongoing development for 7 new corridors by NHSRCL. We'll have to wait and see if the final report does.
Ultimately the incumbent government, both central and state, at power will decide the fate of the lines and their sequencing for construction. I certainly do not see a Nagpur – Varanasi line getting prioritized for execution over the more lucrative Delhi – Chandigarh – Amritsar or Chennai – Bengaluru – Mysuru lines that have a much higher ridership potential.
It's good to have a guiding plan in place and this is a good start at generating conversation, but I'd like to see NHSRCL clarifying if they intend to adopt this plan or come up with their own masterplan – something which I'd expect would be grounded in reality and can be fine-tuned as the country marches ahead.
For more updates, check out the High Speed Rail section of The Metro Rail Guy!
– TMRG