January 11, 2021 Update: Sadbhav Engineering has been issued a LOA by GMRC for Surat Metro Package CS1's construction.
December 21, 2020 Original Post:
Sadbhav Engineering Ltd. – SP Singla Constructions Pvt. Ltd. (SEL-SPSCPL) JV today emerged as the lowest bidder among 6 to construct the first 11.6 km Kadarsha Ni Nal – Dream City (Package CS1) section of Surat Metro's 21.61 km Line-1, after officials from the Gujarat Metro Rail Corporation (GMRC) opened financial bids.
This first section of the 40.35 km Surat Metro Phase 1 project will consist of 10 elevated stations in south-west Surat and connect Dream City with Kadarsha Ni Nal in the city's core. East of that, the line will head underground towards Surat Railway Station (3.46 km Package CS2) and onward to Chowk Bazar (3.56 km Package CS3). Those packages received 6 bids from 4 firms when technical bids were opened in November.
GMRC invited tenders for this section's construction on June 1, 2020 with an estimated cost of Rs. 805.356 crore and expects the assigned contractor to complete work in 30 months. Technical bids were opened on September 28 to reveal 6 bidders.
Financial Bid Values:
| | |
| --- | --- |
| Firm | Bid |
| Sadbhav – SP Singla JV | Rs. 779.73 crore |
| Dilip Buildcon – Evrascon JV | Rs. 787.09 crore |
| Larsen & Toubro (L&T) | Rs. 801.05 crore |
| HCC- KEC JV | Rs. 847.27 crore |
| NCC | Rs. 941.77 crore |
| J Kumar – RBL JV | Rs. 957.31 crore |
Package: CS1
Scope: Construction of 11.6 KM Elevated Viaduct from Kadarsha Ni Nal to Dream City Dead End Including Ramp for Depot entry near Dream City and 10 Stations (Excl. E&M, Architectural Finishing and Roofing) for Surat Metro Rail Project Phase – 1, Package – CS1
The 10 stations in this package will be built at Kadarsha Ni Nal, Majura Gate (interchange with Bhesan – Saroli Line-2), Rupali Canal, Althan Tenament, Althan Gam, VIP Road, Woman ITI, Bhimrad, Convention Center, Dream City.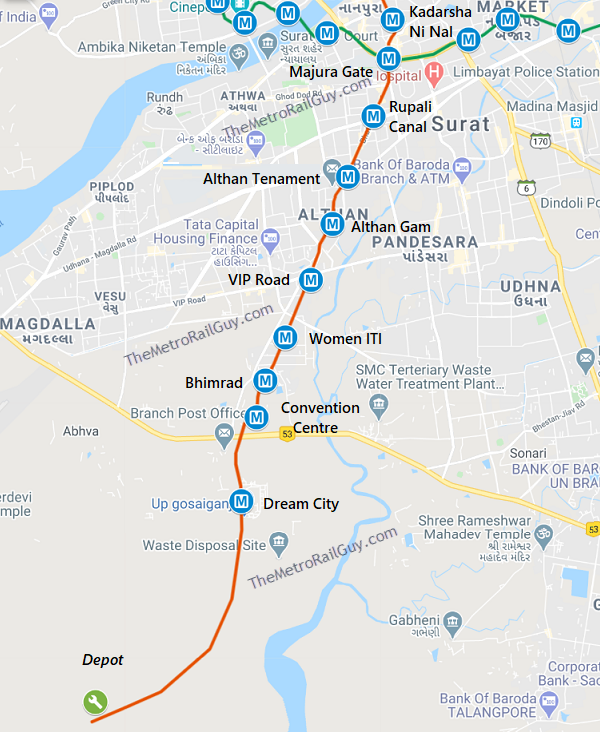 Sadbhav – SP Singla JV's bid of Rs. 779.73 crore crore was well below GMRC's estimate of Rs 805.356 crore, so I don't see any issues arising during financial bid evaluation. In the coming weeks, GMRC should award them with the project's first major civil contract, with an aim to complete all civil work in 30 months.
Within the JV, Sadbhav Engineering has a 74% stake and S.P. Singla Constructions has a 26% stake.
With this development, ground work for Surat Metro (India's 22nd) is expected to begin in Q1 2021 and full-fledged construction in Q2 2021.
For more updates, check out the Surat section of The Metro Rail Guy!
– TMRG