Phooltas Transrail Ltd. on Tuesday emerged as the only technically qualified bidder for supplying a road & rail rescue vehicle each for the 32.385 km Kanpur Metro and 29.40 km Agra Metro's Phase 1 projects after officials from the Uttar Pradesh Metro Rail Corporation (UPMRC) completed technical bid evaluations.
This development automatically makes Phooltas the lowest bidder for package KNAG-06 (R1) whenever their financial bid is opened in the future.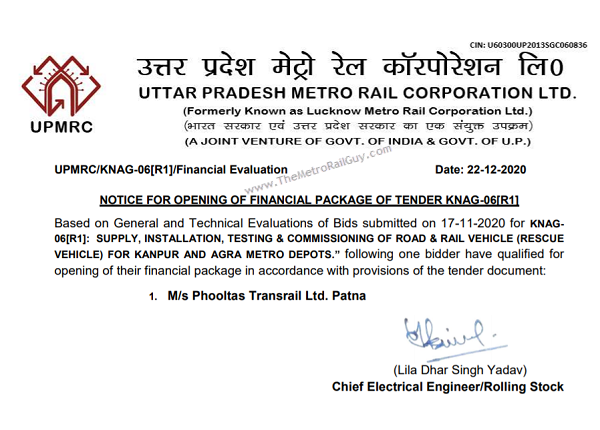 UPMRC had invited bids for this package on May 2, 2020, canceled the tender in September and then re-invited bids on September 17. A list of firms who submitted bids is unknown at this time.
Package: KNAG-06(R1)
Brief Scope: Supply, Installation, Testing & Commissioning of Road & Rail Vehicle (Rescue Vehicle) for Kanpur and Agra Metro Depots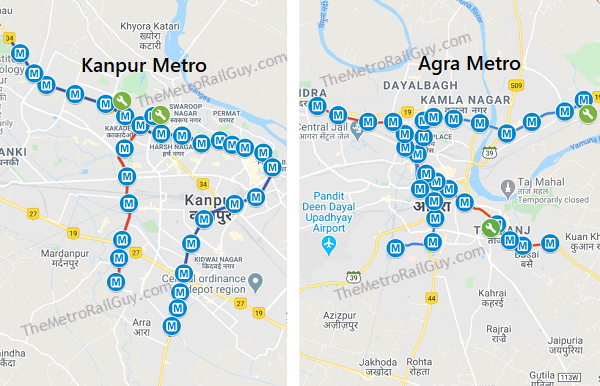 Per the tender document, Kanpur and Agra's battery-powered R&R vehicle shall be maintained free of cost for the scheduled and unscheduled maintenance by the contractor during the defect liability period (DLP) of 12 months from the date of handing over the installed and commissioned vehicle.
If no issues arise during financial bid evaluation, then Phooltas will go on to be awarded with both projects' R&R rescue vehicle contract in the coming weeks. That said, I really do hope UPMRC has to never deploy the machine for rescuing either system's Bombardier train-sets!
Back in 2019, Phooltas was awarded a similar contract for supplying a R&R vehicle to Mumbai Metro Line-2's Charkop Depot. They may have subcontracted its procurement because the one that was supplied arrived via Mumbai's Port.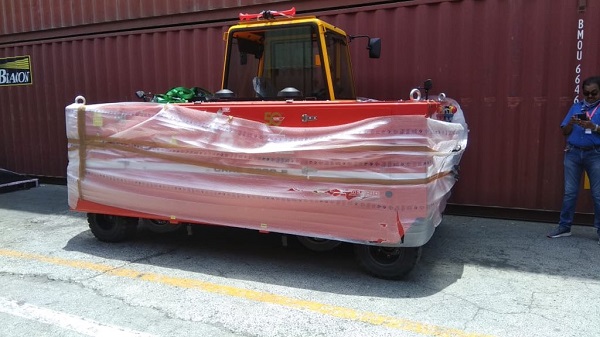 With this development, among the active UPMRC tenders for the Kanpur and Agra's depots – only the winner for the automatic train washing plant has to be decided. Here's a list of machinery & plant (M&P) contracts:
| | |
| --- | --- |
| Package | Awarded to / Status |
| KNAG-01: CNC Under Floor Pit Wheel Lathe Machine | HYT Engineering Company Pvt. Ltd. |
| KNAG-02: Battery Operated Road Cum Rail Vehicle (Electric Bogie Tractor) | ZAGRO Bahn-und Baumaschinen GmbH |
| KNAG-03: Synchronized Pit Jacks & Mobile Jacks | Pfaff Verkehrstechnik GmbH |
| KNAG-04: Bogie Turn Table | Lai Yew Seng (India) Pvt. Ltd. |
| KNAG-05: Re-railing Rescue Equipment | Tender Cancelled |
| KNAG-06 (R1): Rescue Vehicle | Phooltas is automatically the lowest bidder (this post!) |
| KNAG-07 (R1): Automatic Train Washing Plant | Bidding Underway |
A list of all packages and contracts can be viewed here for Kanpur Metro and here for Agra Metro.
For more updates, check out the Kanpur & Agra sections of The Metro Rail Guy!
– TMRG