Per the Mid Day, the Detailed Project Report (DPR) for Thane's 29 km Metrolite project was discussed and approved at Thane Municipal Corporation's General Body meeting on Wednesday.
Thane's mass transit project was initially planned as a regular (heavy) metro line, had its foundation stone laid by the Prime Minister in December 2018, scrapped in 2019 due to cost concerns, and then resurrected as a metrolite or light rail transit (LRT) system in early 2020.
Per noted journalist Rajendra Aklekar at Mid Day with whom I spoke to – the proposal was listed for discussion on Tuesday, discussed as planned, and then approved on Wednesday.
Per a TMC official who spoke with him:
The LRT will be more of a feeder service to the Green Line and the Central Railway trains at the old and the new Thane station and will be in a ring route form. The carrying capacity and speed of LRT is less compared to Metro trains, but that will be sufficient for Thane. The LRT will be partly elevated and partly underground with 22 stations
Thane's standard gauge Metrolite project which will loop around Thane and consist of 22 stations – 20 elevated and 2 underground – to link Mumbai Metro's 32.32 km Line-4 (Green Line), 24.9 km Line-5 (Orange Line), and the Central Railways' Thane Station. A train maintenance depot is planned at Wadavli.
The 20 stations will be located at Raila Devi, Wagle Circle, Lokmanya Nagar Bus Depot, Shivaji Nagar, Neelkanth Terminal, Gandhi Nagar, Kolshet Industrial Area, Manpada, Dongripada, Vijaynagar, Waghbil, Waterfront, Patlipada, Azad Nagar Bus Stop, Manorma Nagar, Balkum Naka, Balkum Pada, Rabodi, Shivaji Chowk, Thane Junction (underground and New Thane (underground).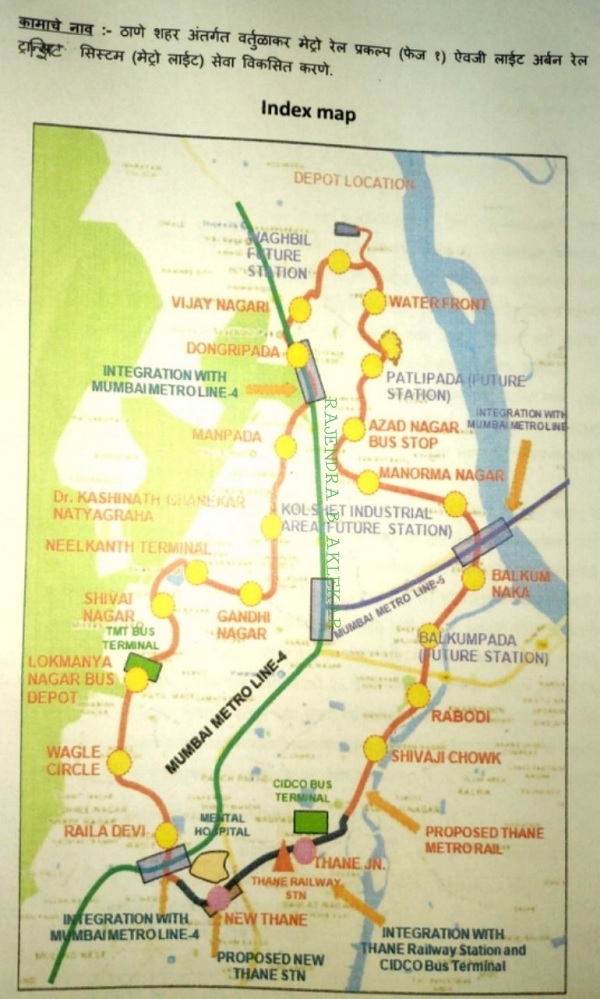 I've mapped out its alignment on the Mumbai Metro Future Network (2030) Route Map located here.
A revised cost and new deadline for the project hasn't been revealed. But with this development, the project's DPR will now be sent to Maharashtra's state cabinet for its approval. When that happens, we'll know more about its funding sources, estimated cost and timelines.
For more updates, check out my Home Page!
– TMRG