Back in early-December, Meinhardt India Pvt. Ltd. emerged as the lowest bidder for the Project Management Consultant (PMC) contract of two sections of Kolkata Metro's 29.87 km Line-6 which will connect Kavi Subhash (New Garia) to Netaji Subhash Chandra Bose International Airport through 24 stations.
The scope of this contract includes two civil packages:
Rail Vikas Nigam Ltd. (RVNL) had invited bids for this service in July and expects the appointed PMC to stay on board until the end of each project (Package ANVS: 36 months, Package ANS-3/1: 27 months which each have a 6 month defect liability period)
Financial Bid Values (Opened on December 4):
| | |
| --- | --- |
| Firm | Bid |
| Meinhardt India Pvt. Ltd. | Rs. 17.57 crore |
| Intelligent Transport Solutions Pvt. Ltd. | Rs. 17.93 crore |
| LEA Associates South Asia Pvt. Ltd. | Rs. 18.04 crore |
| Voyants Solutions Pvt. Ltd. | Rs. 18.14 crore |
| Feedback Infra Pvt. Ltd. | Rs. 18.36 crore |
Contract / IFB No: RVNL/KOL/METRO/NewGaria-Airport/PMC/1
Brief Scope: Project Management Consultancy Services for the works of Package- ANVS Construction of Viaduct, Ramp and Underground RCC Box Cut and Cover, Box Pushing for 3.52 Km Length including Two Stations from existing Pier CP-760 to Merging point with Metro Railway at Bimanbandar Station yard and Package-ANS-3/1 Construction of Seven Stations from SUB-CBD1 to TITUMIR in New Garia to Bimanbandar Metro Corridor of Kolkata Metro Railway Line, West Bengal.
Besides the viaduct, ramp and underground RCC box, Package ANVS also includes the construction of 2 stations at Rabindra Tirtha and VIP Road –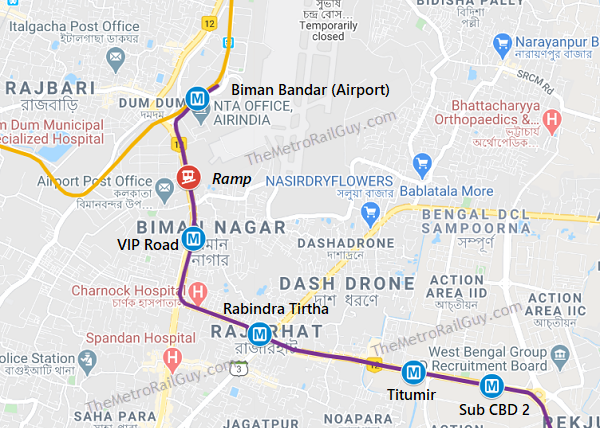 The 7 stations in Package ANS-3/1 are located at Titumir, Cub CBD-2, Convention Centre, New Town, Kalkhetra, CBD-1 and Sub-CBD-1: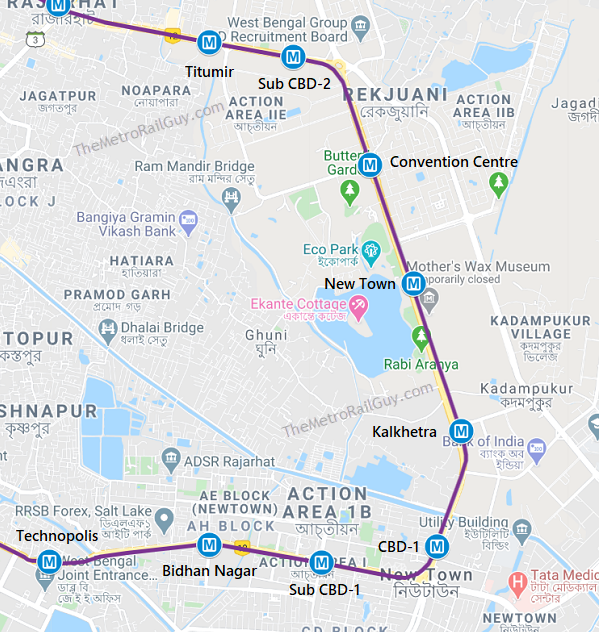 RVNL's team isn't quite known for effective project management, so it's good to see a dedicated PMC getting appointed to keep things on track. Whether that happens or not, we'll find out in the coming years.
For more updates on India's metro systems, check out my Home Page!
– TMRG