Four construction firms have submitted tenders (bids) to build the only underground package (PC-03) of Patna Metro's 14.05 km Line-2 which will connect Patna Junction Railway Station and New ISBT through 12 stations.
After Phase 1's Package PC-01 where NCC started piling work in December, the roughly 8 km package PC-03 is the second (and final) civil package of Line-2 and comprises of 6 underground stations. A station planned at Prem Chand Rangashala between Moin Ul Haq Stadium and University stations was dropped from the plans in 2020.
DMRC had invited tenders for PC-03 in September with an estimate of Rs 1958.81 crore and expects the assigned contractor to complete work in 42 months. Technical bids were opened today to reveal the following bidders.
Bidders (4):
Afcons Infrastructure
ITD Cementation India Ltd.
Larsen & Toubro (L&T)
Tata Projects Ltd. (TPL)
Package: PC-03
Brief Scope: Design and Construction of Twin Tunnel by Shield TBM, Tunnel by Cut & Cover, Underground Ramp at Rajendra Nagar and Six Underground metro stations viz. Rajendra Nagar, Moin Ul Haq Stadium, University, PMCH, Gandhi Maidan & Akashvani with Entry/Exits & Connecting subway including Architectural Finishing, Water Supply, Sanitary Installation & Drainage works on New ISBT to Patna Station of corridor-2 of Phase-I of Patna MRTS.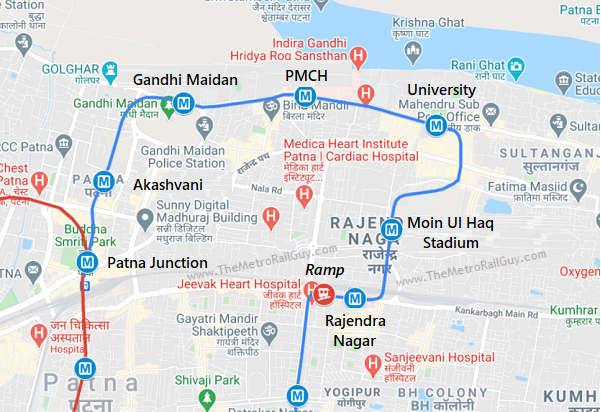 The bids have now been sent for technical evaluation which can take a couple months to complete. When that is done, the financial bids of the technically qualified bidders will be opened to reveal who's the lowest bidder and most likely contractor for this package's construction.
Financial bids for Package PC-04 (8 km, 7 stations) on Line-1 are expected to be opened soon, so stay tuned to find out its winner. That package received 4 bids back in November 2020.
For more updates on India's metro systems, check out my Home Page!
– TMRG