Moments ago, India's Minister of Housing & Urban Affairs and Karnataka's Chief Minister inaugurated Bangalore Metro Green Line's 5.799 km Yelachenahalli – Silk Institute extension on Kanakapura Road.
This southern extension of the 24.20 km Green Line – the very first of Phase 2 – was built by NCC Ltd. with an original deadline of December 2018, as part of the project's 6.29 km Reach-4B. Alstom India provided both the power supply (electrification) and signaling solutions.
The extension was certified fit for commercial operations by the Commissioner of Metro Rail Safety (CMRS) on November 23, after a 2 day inspection, with a list of 37 conditions which the Bangalore Metro Rail Corporation Ltd. (BMRCL) had to rectify or adhere to.
Commercial operations will begin tomorrow morning at 7 am through 5 elevated stations at Konankunte Cross (formerly Anjanapura Cross Road), Doddakallasandra (formerly Krishna Leela Park / ISKON), Vajrahalli, Thalgattapura, and Silk Institute (formerly Anjanapura / Anjanapura Township).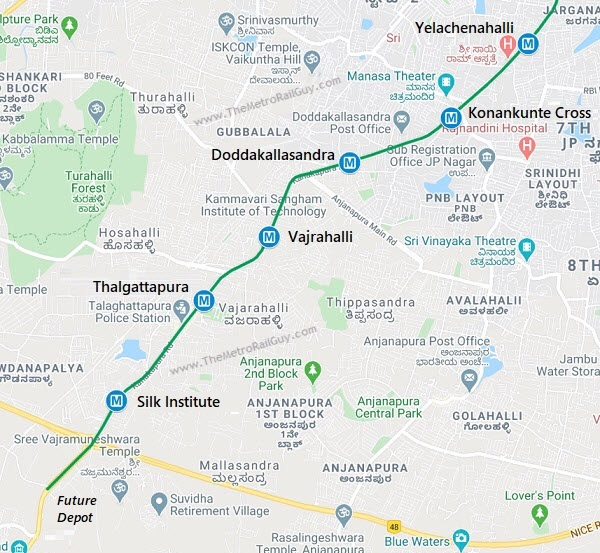 Images of this section's stations shot in 2020 can be viewed here. Additional great shots tweeted by Christin Mathew Philip can be viewed here.
Here are some snaps from today's event at Konanakunte Cross Station via the live stream:
After this section opens to riders tomorrow, the Green Line will become 30 km long connecting Hesaraghatta Cross (Nagasandra) in north Bengaluru with Silk Institute (Anjanapura) in south Bengaluru through 29 stations, and the city's network will become 48.1 km large.
The next section in line for inauguration is the 8.8 km Reach 2A & 2B (Mysore Road – Kengeri – Challaghatta) extension of the Purple Line. Testing on that should begin in Q2 2021 with services opening in Q3.
For more updates on India's metro systems, check out my Home Page!
– TMRG