March 9, 2021 Update: Gulermak – SAM India has received UPMRCL's LOA for Kanpur Metro's underground contract with a combined value of Rs. 769.23 crore & USD 36.74 million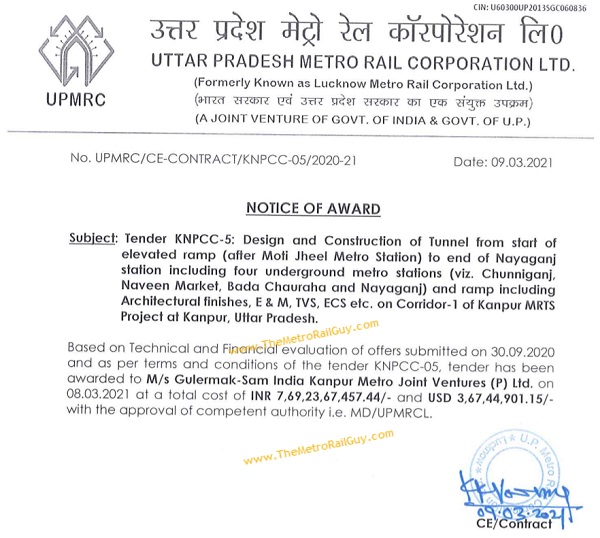 January 14 Original Post:
Moments ago, Gulermak – Sam India JV emerged as the lowest bidder among 6 firms to construct the first civil package of the 32.385 km Kanpur Metro Phase 1 project's 8.621 km underground section, after Uttar Pradesh Metro Rail Corporation (UPMRC) opened financial bids.
Excluding the ramp, this package (KNPCC-05) of the 23.785 km Line-1 connecting IIT Kanpur – Naubasta has a length of 3619 meters and includes four stations at Chunniganj, Naveen Market, Bada Chauraha and Nayaganj – each 215 meters long.
UPMRC had invited tenders for this package on July 6, 2020 with an estimate of Rs 1400 crore and expects the assigned contractor to complete work in 36 months.
Technical bids were opened in September to reveal 7 bidders, and technical bid evaluation was completed last week in which 6 firms were shortlisted and Shanghai Tunnel Engineering Co. Ltd. was disqualified for not meeting the tender conditions.
UPMRC's Estimate: Rs. 1400 crore
Financial Bid Values:
| | |
| --- | --- |
| Firm | Bid |
| Gulermak – Sam India JV | Rs. 1042.26 crore |
| Tata Projects Ltd. (TPL) | Rs. 1179.08 crore |
| Larsen & Toubro (L&T) | Rs. 1224.54 crore |
| Afcons Infrastructure | Rs. 1231.05 crore |
| JMC – CAI JV | Rs. 1259.31 crore |
| Doğuş Construction | Rs. 1984.88 crore |
Tender No: UPMRC/CE-Contract/KNPRCC-05/2020
Package: KNPCC-05
Scope: Design and Construction of Tunnel from start of elevated ramp (after Motijheel Station) to end of Nayaganj station including four underground metro stations (viz. Chunniganj, Naveen Market, Bada Chauraha and Nayaganj) and ramp including Architectureal finishes, E&M, TVS, ECS etc. on Corridor-1 of Kanpur MRTS Project at Kanpur, Uttar Pradesh, India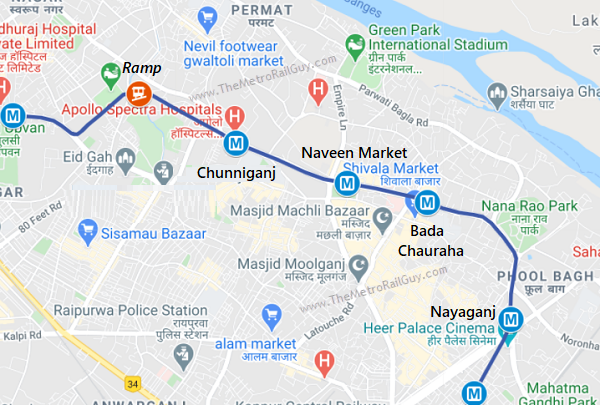 Gulermak – Sam India's bid of Rs. 1042.26 crore was well below UPMRC's estimate of Rs. 1400 crore, so they should receive a Letter of Award (LoA) in the coming weeks.
This particular contract will be financed by the European Investment Bank (EIB) through a €650 million (approx. Rs. 5661 crore) loan approved in July 2020. When awarded, it will be Gulermak's second underground contract in Uttar Pradesh. Back in 2016, they were awarded Lucknow Metro's 3.44 km underground package LKCC-06 with 3 stations, which was completed in record time.
Tender notices for the line's eastern section with 1 underground package (Nayaganj – ISBT) and 1 elevated package (ISBT – Naubasta) are still pending. A list of Kanpur Metro's packages / contracts can be viewed viewed here.
For more updates on India's metro systems, check out my Home Page!
– TMRG