The European Investment Bank (EIB)'s updated website indicates that on July 15, its board approved a €650 million (approx. Rs. 5661 crore) loan for financing the rolling stock and development of Kanpur Metro's 32.385 km Phase 1 project.
Representatives from the EIB had been in talks with Uttar Pradesh Metro Rail Corporation Ltd. (UPMRCL) since April 2016, and officially began appraising the project on March 10, 2020.
Kanpur Metro's Phase 1 with 2 lines and 31 stations was approved by India's Central Government on 28 February 2019 with an estimated cost of Rs. 11,076.48 crores. This loan represents 51.11% of the total cost, and the rest is expected to be financed by the state and central governments.
Objectives: The new metro will contribute to make Kanpur safer and more business-friendly. By facilitating access to amenities and jobs, this low carbon and climate resilient urban infrastructure will improve the conditions for private sector development, while reducing environmental impact. The project contributes to the two main objectives of the EIB External Mandate: (i) climate change mitigation, by promoting modal shift from road to rail while reducing greenhouse gas emissions, and (ii) social and economic infrastructure development, by contributing to urban development. The project is in line with the EU Country Strategy Paper for India which highlights the infrastructure gap and need to address rising greenhouse gas emissions.
Phase 1 involves the construction of 2 lines with a mix of elevated and underground sections – view detailed information.
• Line 1 – IIT Kanpur to Naubasta (23.785 kms, 22 stations)
• Line 2 – Chandra Shekhar Azad University to Jaurali (8.6 kms, 9 stations)
Afcons Infrastructure started construction work on Line-1's 8.728 km Priority Corridor (IIT Kanpur – Motijheel) back in November 2019 and had made significant progress (see last update) on the line despite COVID-19 bringing all works to a halt between March – May.
In early July, the contract for the system's rolling stock and signalling was awarded to Bombardier Transportation, and UPMRCL also invited bids for the construction of its first underground section between the Motijheel Ramp and Nayaganj.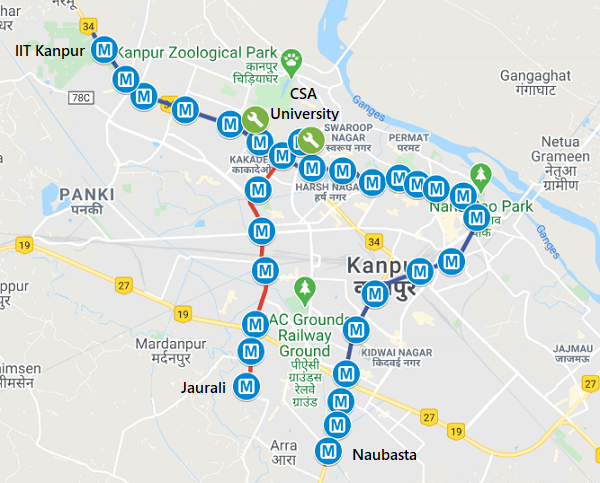 With this approval, a formal loan agreement with the Government of India is now pending. In the meanwhile, tenders for the other pending sections and system contracts of the system can be expected to be invited soon.
Kanpur Metro's €650mn loan has become EIB's 5th transport loan to India and its largest transport loan outside Europe. The other 4 in India include:
• Lucknow Metro – €450 million agreement signed in March 2016
• Bangalore Metro – €500 million (€300m agreement signed in October 2017)
• Bhopal Metro – €400 million approved in December 2019
• Pune Metro – €600 million agreement signed in January 2020
For more updates, check out the Kanpur section of The Metro Rail Guy!
– TMRG