Per Bangalore Metro Rail Corporation Ltd. (BMRCL)'s updated website, Jindal Steel & Power Ltd. (JSPL) on January 12 was awarded a Rs. 38.06 crore contract to supply rails for use on Bangalore Metro Phase 2 project's new under construction lines.
BMRCL had invited tenders (bids) for these 60 E1 880 grade rails in July 2020 with a 12 month deadline.
The brief scope didn't specify details on its quantity or line where they'll will be laid, so these could be for either the 19.143 km Yellow Line (Reach 5) connecting RV Road – Silkboard – Electronic City – Bommansandra OR for the 21.386 km Line-4 (Reach 6 / Pink Line) connecting Nagawara – Kalena Agrahara (Gottigere).
Final Contract Value: Rs. 38,06,82,000
Tender Notification No: BMRCL/Phase-2/60 E1 880 Grade Rails /RT01/2020/68
Scope: Bangalore Metro Rail Corporation Ltd., (BMRCL) a Joint Venture of Government of Karnataka and Government of India, invites tender through National Competitive Bidding (Single stage – Two Envelope System) from eligible, qualified, reputed and experienced Suppliers (JV/Consortium is permitted) for the "Supply of 60E1 880 Grade Rails as per Indian Railway Specification T-12-2009 for Bangalore Metro Rail Project, Phase-2"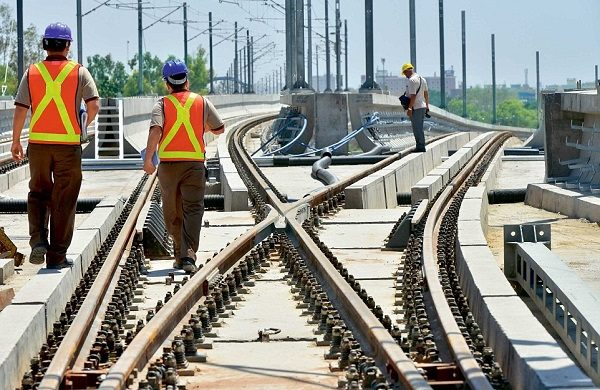 This is the third such rail/track laying contract for the Phase 2 project. Prior to this, BMRCL awarded contracts to:
Texmaco Rail and Engineering for the supply of similar 60E1 – 880 grade rails in May 2018 for Rs. 521 crore. Last week, Texmaco sub-contracted a portion of works to Salasar Adorus Infra with a value of approximately Rs 252 crore.
Mitsui & Co. for the supply of 60E1 – 1080 grade head hardened rails in December 2019 for a combined contract value of $10.8 million USD & Rs. 4.08 crore.
For more updates on India's metro systems, check out my Home Page!
– TMRG