Chennai Metro Rail Limited (CMRL) on Friday night invited tenders (bids) for the construction of a 10.13 km viaduct and 9 elevated stations (Package C3-ECV-01) between Sholinganallur Lake and SIPCOT 2 on Chennai Metro's new 45.813 km Line-3 (Madhavaram – SIPCOT).
This is so far the 13th tender notice for civil work on the 118.9 km Chennai Metro Phase 2 project, 8th for Line-3, and the 1st for Line-3's approximately 19 km elevated section that runs between Taramani Link Road and SIPCOT 2 on Old Mahabalipuram Road (OMR).
A train depot planned at SIPCOT was dropped in 2020 and has been replaced by an elevated stabling yard, similar to the one under construction in Wimco Nagar for the 9.051 km Phase 1 Extension project. A station planned at St Joseph College is no longer in the works.
Tender No.: CMRL/CON/PHASE-II/C3-ECV-01/2021
Deadline: 36 months (3 years)
Pre-Bid Meeting: March 9, 2021 at 1100 hrs
Bid Submission End Date: May 5, 2021 up to 1500 hrs
Technical Bid Opening Date: May 5, 2021 at 1500 hrs
Brief Scope: Construction of elevated viaduct (approximate length of 10 km), nine (9) elevated metro stations at Sholinganallur Lake, Ponniamman Temple, Sathyabama University, Semmancheri, Gandhi Nagar, Navallur, Siruseri, SIPCOT 1 and SIPCOT 2 and stabling viaduct at SIPCOT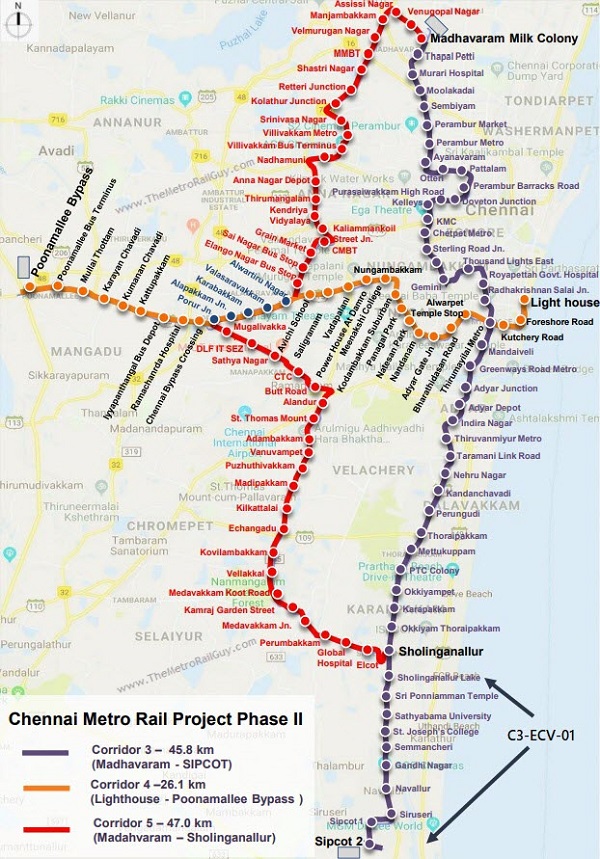 This is the first civil package to be financed by the Asian Development Bank (ADB) which, besides a part of Line-3, is also evaluating a proposal to finance Line-4's 10 km underground section (Lighthouse – Meenakshi College) through a combined $780 million (approx. Rs. 5890 crore) loan.
With this development, for Line-3 – only 1 tender notice is now pending for its Taramani Link Road – Sholinganallur Lake section (approx. 9 km) with 10 planned stations at Nehru Nagar, Kandanchavadi, Perungudi, Thoraipakkam, Mettukuppam, PTC Colony, Okkiyampet, Karapakkam, Okkiyam Thoraipakkam and Sholinganallur. That section will be financed by Japan International Cooperation Agency (JICA).
A list of all Phase 2 civil & system packages and their status can be viewed here.
For more updates on India's metro systems, check out my Home Page!
– TMRG
Subscribe to Free Email Notifications