Nine firms have submitted tenders (bids) for electrical & mechanical systems of Patna Metro's 30.91 km Phase 1 project, after the Delhi Metro Rail Corporation (DMRC) opened tenders today for Package PE-02.
This is Patna Metro's second systems-related package of Phase 1 which will feature two mostly-elevated lines with 24 stations including 2 interchanges at Khemni Chak and Patna Junction Railway Station.
Besides basic E&M equipment, its scope also includes commissioning fire detection, fire suppression equipment and diesel generators at 12 elevated stations and New ISBT Depot, under construction by Quality Buildcon.
DMRC invited bids for package PE-02 in mid-December with an estimate of Rs 90.82 crore and completion period of 36 months (3 years).
Bidders:
Blue Star Ltd.
EFKON India Pvt. Ltd.
ETA Engineering Pvt. Ltd.
Jakson Ltd.
Schneider Electric India Pvt. Ltd.
S.T. Electricals Pvt. Ltd.
Sudhir Power Projects Ltd.
Tuaman Engineering Ltd.
Universal Agency Ramgarh Pvt. Ltd.
Contract: PE-02
Brief Scope: Design Verification, Detail Engineering, Supply, Installation, Testing & Commissioning of Electrical and Mechanical systems, Fire detection, Fire suppression system and DG sets of Corridor-1 and Corridor-2 Elevated stations and Depot of Patna Metro Rail Project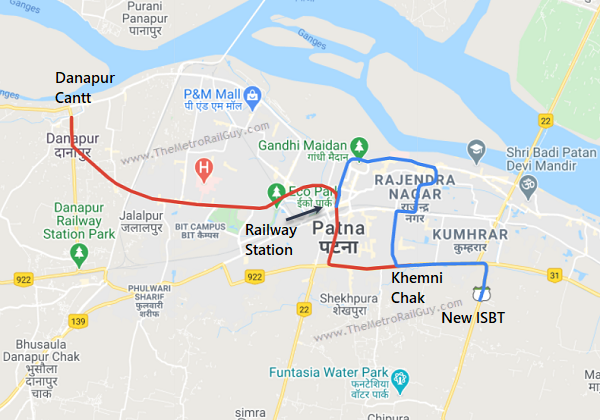 The bids have now been sent for technical evaluation which can take a couple months to complete. When that is done, the financial bids of the technically qualified bidders will be opened to reveal who's the lowest bidder and most likely contractor for this E&M package.
Back in November 2020, DMRC opened technical bids for the first systems package (PE-01) dealing with RSS & TSS electrification work to reveal 6 bidders. Financial bids for that haven't been opened yet.
For more updates, check out my Home Page!
– TMRG
Subscribe to Free Email Notifications