In Chennai Metro's upcoming 118.90 km Phase 2 project, Chennai Metro Rail Ltd. (CMRL) has two very interesting plans in place for the new 47 km Line-5 which will connect Madhavaram and Sholinganallur through 48 stations.
Among them, they plan to convert the Phase 1 project's existing Green Line viaduct between Alandur Station and St. Thomas Mount Station – a distance of 980 meters – to ultimately carry Line-5 (color not finalized) and serve its new trains.
This conversion will result in the Green Line terminating at Alandur Station where a new station box is going to be built for Line-5 just east of the existing blue & green lines' station box. This will result in the station becoming a triple-line interchange, similar to Delhi Metro's existing Kashmere Gate Station and Kolkata Metro's planned Esplanade Station.
CMRL already runs Alstom trains between the Airport and CMBT through Alandur via a rake interchange, so there's room for it 'formally' extending south-westward to the airport.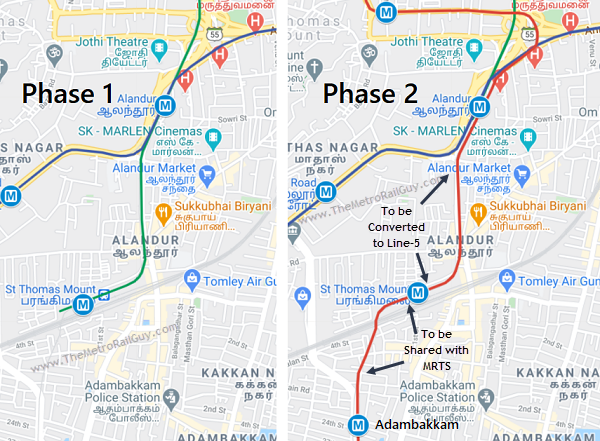 The second plan is to share a common alignment, via a double-decker viaduct, with the Southern Railway-run Chennai MRTS from St. Thomas Mount Station (chainage 31.178) to just north of Adambakkam Station (chainage 31.657) – a distance of 479 meters. That section was anyways going to see large scale land acquisition for the MRTS project, so this combined viaduct will kill two birds with one stone.
CMRL had invited bids for this section on January 22 as part of Package C5-ECV-02 (CMBT – Puzhuthivakkam) and that had skipped mentioning St. Thomas Mount Station in its scope. Reader Anand in the comments was quick to point out this oddity and later also described the plans, which is confirmed by the tender drawing below.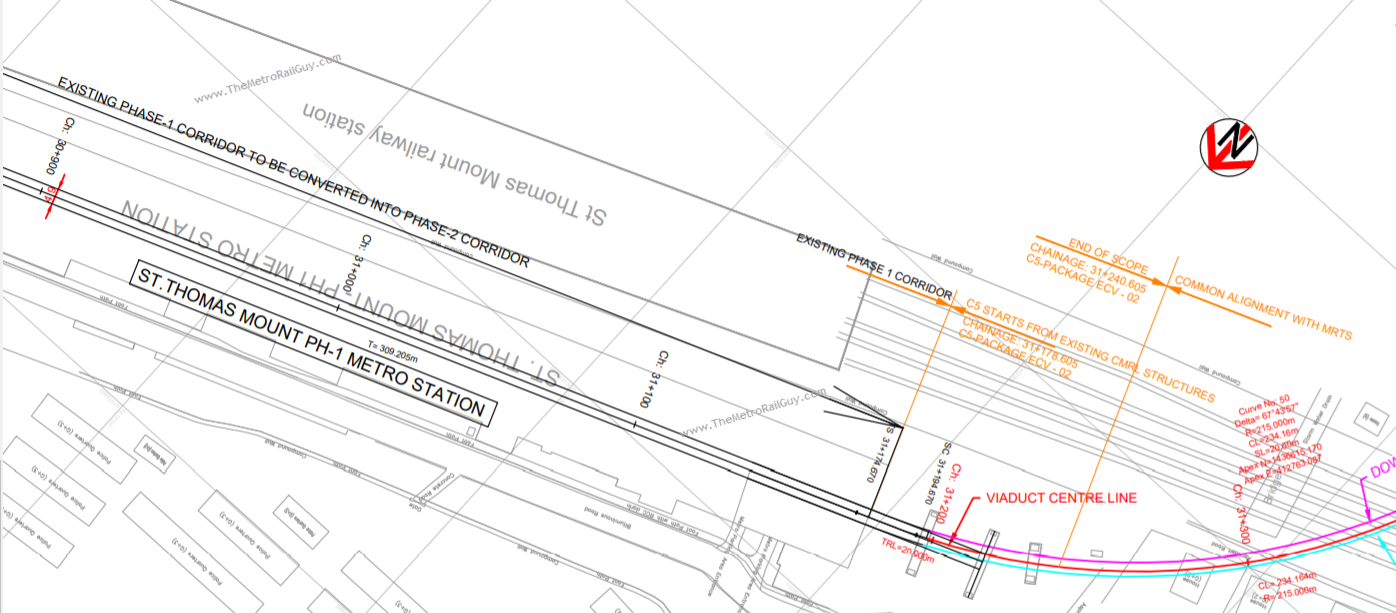 To achieve the conversion, I reckon CMRL in 2024-25 will terminate services on the Green Line between Alandur and St. Thomas Mount to have its contractors take up civil and system integration works between Line-5's new corridor and Green Line's existing corridor.
For more updates, check out my Home Page!
– TMRG
Subscribe to Free Email Notifications