Four small firms have submitted bids for the platform screen door contract at Dwarka ECC Station on the Delhi Metro Airport Express Line's new 1.878 km underground extension to the Exhibition-cum-Convention Centre (ECC) in Sector 25.
DMRC invited bids this systems-work in December 2020 with an estimate of Rs. 7.71 crore and expects the assigned contractor to commission the PSDs within 12 months of contract award. Technical bids were opened today to reveal the following bidders:
Longlasst inc.
River Engineering Pvt. Ltd.
RT Vision Technologies Pvt. Ltd.
Saini Electrical and Engineering Works
Contract: CS52R
Brief Scope: Design, Manufacture, Supply, Installation, Testing and Commissioning of Full Height Platform Screen Doors at Dwarka Sector 25 Station of Extension of Airport Express Line Delhi MRTS project of Phase-III.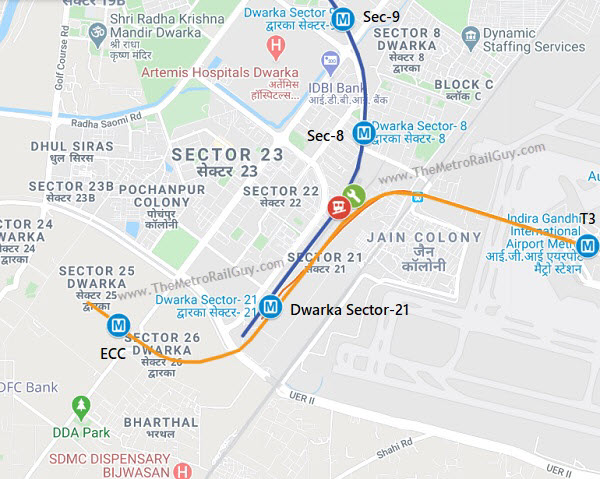 The bids have now been sent for technical evaluation which can take a couple months to complete. When that is done, the financial bids of the technically qualified bidders will be opened to reveal who's the lowest bidder and most likely contractor.
This small extension, being built entirely by the cut and cover method, has been under construction by YFC – MBZ JV through the Phase 3 project's Package CC-127 since January 2018 with a completion deadline of 30 months. An image from inside the tunnel can be viewed here.
General Scope of Works
This Contract comprises the design, coordination, construction and testing, validation, manufacture, supply, transportation, delivery, installation, testing, performance verification and demonstration, commissioning, maintenance and rectification of defects during the Defects Liability Period of the complete PSD system of Dwarka Sector 25 (ICC) station of Airport Express Line (AEL).
Contractor to note that Baggage Handling Platform Edge Doors (PEDs) and Baggage Handling Area Local Control Panel (PEL) and any action/performance related to Baggage Handling Platform Edge Doors (PEDs) is not in the scope of works for Dwarka Sector 25 (ICC) station of Airport Express Line (AEL). Any reference given herewith this tender is for information only.
The Contractor shall review the architectural, structural and E&M drawings of the station and provide all input and information necessary for the development of CSDs and SEMs.
The contractor shall interface and liaise with other designated Contractors in accordance with the requirements given in this PS. The Contractor shall make all necessary provisions to avoid interference with the Designated Contractors.
The interface between on-board to Platform Screen Doors for synchronization of train doors and Platform Screen Doors opening and closing, shall be through Signalling system. For this, they shall interface with the Signalling contractor/Rolling Stock contractor.
Contractor shall draw power (415V, 3 phase) from two sources: UPS provided in S&T UPS room on suitable MCBs and Raw Power by E&M contractor which will be made available in PSD equipment room.
The contractor shall demonstrate compliance to Safety, Electromagnetic compatibility, reliability, availability, maintainability and other system assurance requirements.
It is a maintenance requirement that plant and equipment can be delivered via the platforms onto Works Trains and vice versa during non-traffic hour. To meet this objective, the PSD installation shall be designed such that removal and restoration of doors and fixed screens shall be accomplished during non-traffic hour without disruption to the operation of the railway operation in the following day.
Here's a really nice video uploaded in January-end by Prakhar Sahay on YouTube which shows Dwarka ECC under construction from various spots. For views of the ECC Station, skip to the 11:25 and 14:00 minute marks.
For more updates, check out my Home Page!
– TMRG
Subscribe to Free Email Notifications