Rail Vikas Nigam Ltd. (RVNL) today invited tenders (bids) for the CBTC signaling and telecommunication system contract of Kolkata Metro's under construction 15.246 km Line-3 (Joka – Esplanade) and 32 km Line-6 (New Garia / Kavi Subhash – Biman Bandar / Airport).
Specifications listed in the tender doc:
Signaling System: CBTC (Communication based Train Control System) includes ATP (Automatic Train Protection), ATO (Automatic Train Operation) and ATS (Automatic Train Supervision)
Telecommunication System: Terrestrial Trunked Radio (TETRA) Communication System and SCADA for support systems control with Gigabit Ethernet network backbone
RVNL will give preference to local suppliers under the Make in India, or Atmanirbhar Bharat, initiative. Here's an excerpt:
Purchase Preference to Make in India: The provisions of revised 'Public
Procurement (Preference to Make in India) Order 2017' issued by Department of Industrial Policy and Promotion under Ministry of Commerce and Industry vide letter no. P-45021/2/2017-PP (BE-II) dated 28.05.2018 shall be applicable to the bidding process and award of the contract shall be done accordingly.

In this connection, the minimum local content shall be 50% and the margin of purchase preference shall be 20%. For award of contract, para 3.c. of the revised 'Public Procurement (Preference to Make in India) Order 2017' shall be applicable in addition to the other provisions in the bidding documents in this regard.
Package: RVNL/KOL/S&T/S02
Estimate: Rs. 656 crore
Period of Work: 48 months
Pre-Bid Meeting: 12.03.2021at 11.30 AM
Bid Submission End Date: 08/04/2021 at 11.00 hrs
Technical Bid Opening Date: 08/04/2021 at 11.30 hrs
Brief Scope: Design, Manufacture, Supply, Installation, Testing and Commissioning of CBTC based Train Control & Signaling Systems and Telecommunication Systems for Kavi Subhash – Biman Bandar Metro corridor (32 Kms) & Joka – Esplanade Metro corridor (16 Kms) of Metro Railway Kolkata in West Bengal, INDIA.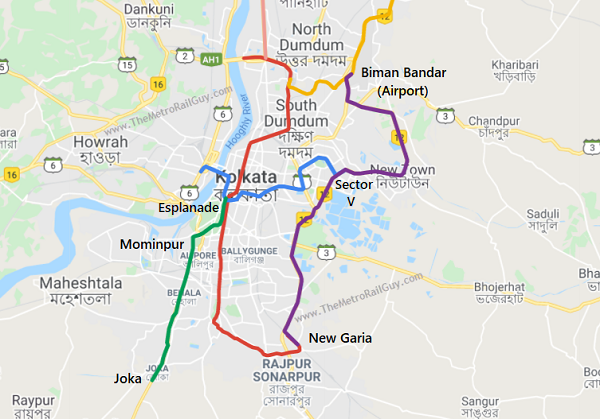 Here's my go-to video comparing CBTC signaling with Distance-to-Go signaling (Fixed Block) found on Kolkata's Line-1 which on February 22 will be extended to Dakshineswar Station:
Here's the contract's schedule with key dates. Interesting to note they plan to start commercial / revenue operations using ATP in which trains are operated manually with a low Grade of Automation level of 1 (GoA 1) with a basic safety and warning system in place to ensure adequate spacing between trains. ATO will be implemented after that for greater automation.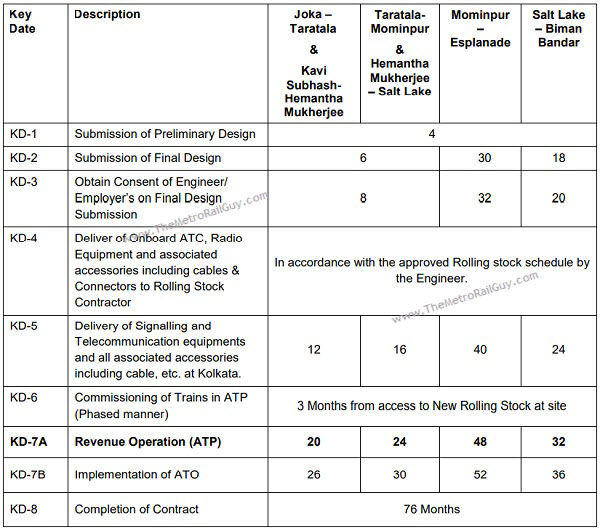 Things on the systems side for both lines are now moving along. Back in December 2020 – RVNL invited bids for their AFC system's contract (Package S&T/S01), and earlier this month they opened technical bids for the electrification system's contract (Package 3 and 4) to reveal two bidders – L&T and KEC-Siemens.
For more updates, check out my Home Page!
– TMRG