Afcons Infrastructure in January launched site preparation works to construct a 1.35 km long bridge over the Yamuna River for Package 6 of the 82.15 km Delhi – Meerut RRTS Line which was awarded by National Capital Region Transport Corporation (NCRTC) in November 2020.
Since then – work this month has moved on to build well foundations for its piers on the river's floodplains. The deck of this new bridge for semi high-speed trains will be constructed using box girders and will be 626 meter long over the river portion. It will consist of 32 piers with each span being 44m long.
The bridge is coming up about 600m north of the DND Flyway and link Sarai Kale Khan (Nizamuddin) and New Ashok Nagar stations.
Afcons had emerged as the lowest bidder among 5 for constructing an approximately 9.3 km section within Delhi between Sarai Kale Khan – New Ashok Nagar in September 2020. The team conducted a bhoomi puja near New Ashok Nagar Station's site in January 2021 to formally launch construction works.
Their scope includes building a viaduct from Sarai Kale Khan Station to New Ashok Nagar's Down-Ramp, a bridge over the Yamuna River, an entry ramp leading to the Jangpura Stabling Yard where a few Alstom (which acquired Bombardier) train-sets will stabled overnight for morning services, and two elevated stations at Sarai Kale Khan and New Ashok Nagar.
Some snaps shot earlier this month: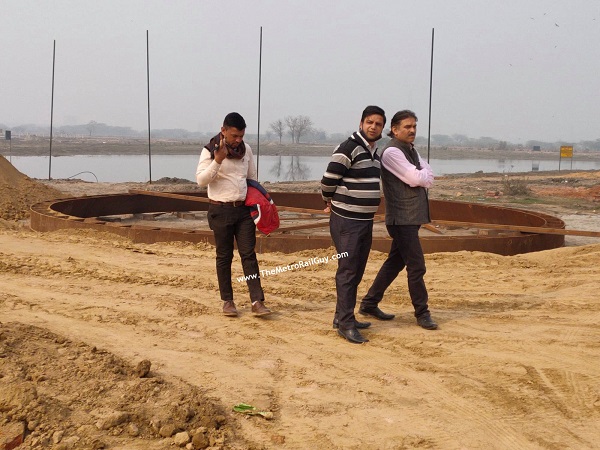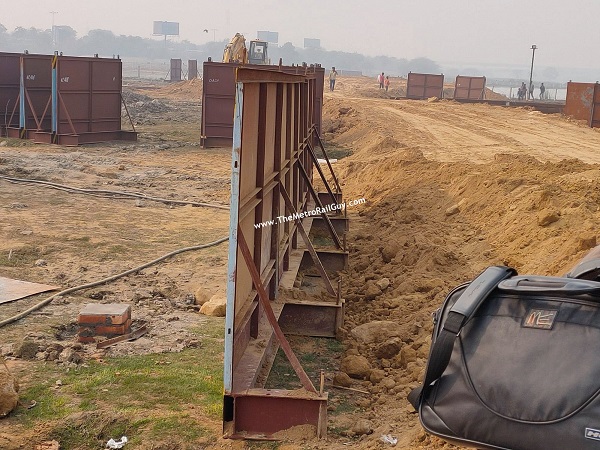 Here's a nice video which shows the sequential activities required for building a well foundation:
Afcons is chasing a 910 day deadline to complete civil works.
Roughly 15 km north, as the crow flies, Longjian – KEC JV is constructing another new bridge for the Delhi Metro's Pink Line just north of Signature Bridge at Wazirabad. When both are ready in 2023-24, Delhi will have 6 bridges over the Yamuna River for modern MRTS trains (RRTS + 2 x Pink Line + Red Line + Blue Line + Magenta Line).
For more updates, check out the NCR RRTS section or my Home Page!
– TMRG