Delhi Metro Rail Corporation (DMRC) on Wednesday invited tenders for Package DE-14 to commission the 25 kV FOCS overhead equipment (OHE) and 33 kV auxiliary power supply system at Line-7's 12.098 km Maujpur – Majlis Park section.
This package doesn't feature in JICA's 44 funded civil & system packages for which a loan deal is still pending finalization. Its scope also includes augmentation works at Mukundpur Depot to allow for the Magenta Line's trains to be stabled in the future.
Package: DE-14
Brief Scope: Design, Supply, Installation, Testing and Commissioning of 25 kV Overhead Equipment (OHE), 33 kV Auxiliary Power Supply for elevated section of Line-7 Ext. (Maujpur to Majlispark) and Augmentation works of Mukundpur depot of Delhi Metro MRTS Phase-IV.
Estimate: Rs. 79.52 crore
Completion Period: 540 days (1.5 years)
Pre-Bid Meeting: April 7, 2021 at 11:00 AM
Bid Submission End Date: April 26, 2021 at 03:00 PM
Technical Bid Opening Date: April 27, 2021 at 03:00 PM
This section of the 65.1 km Phase 4 project is under construction by Longjian – KEC JV (DC-02) with 8 stations at Yamuna Vihar, Bhajanpura, Khajuri Khas, Sonia Vihar, Wazirabad Surghat, Jagatpur Village, Jharoda Majra and Burari.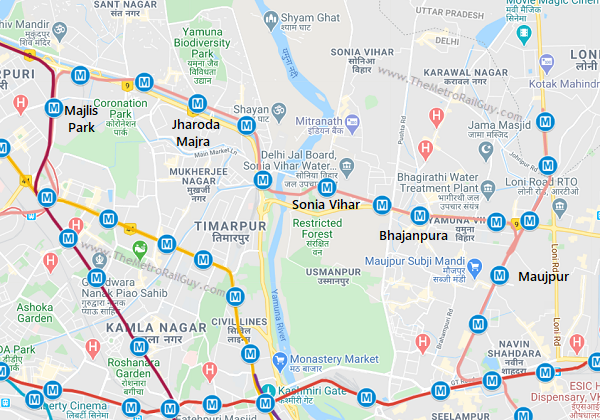 Back in June 2013, Siemens was awarded the 58.59 km Line-7's (Mukundpur – Majlis Park) electrification contract through the 162 km Phase 3 project's Package CE-07 Lot-01.
DE-14's Scope from Tender Document
Design of 25 kV FOCS System and 33 kV Auxiliary System of Elevated Sections and At Grade for Mukundpur Depot.
Supply and Erection of 25 kV Traction Overhead Equipment for Elevated Lines and 'At-grade', and Switching Stations.
Supply and Erection of 25 kV cables.
Supply and Erection of Return Current cables.
Supply and erection of Booster Transformers, if required, along the line.
Supply and Erection of 33 kV Insulated cables at viaduct, on ground, underground (buried) and at other places as detailed in subsequent paragraphs.
Supply and Erection of 33 kV / 415 V Auxiliary Transformers and associated Switchgears and Equipment in all ASS's, in Elevated Stations.
Modification works, as required, at already erected installations.
Civil works along the line and at switching stations.
All Testing, integrated testing, and Commissioning of all erected equipment.
For more updates, check out my Home Page!
– TMRG