Two global consortia led by Nippon Koei and Tata Consulting Engineers today technically qualified to provide project management consultancy services for the civil construction of the 508.17 km Mumbai – Ahmedabad High Speed Rail (MAHSR Bullet Train) project.
India's National High Speed Rail Corporation (NHSRCL) in December 2016 had appointed a General Consultant (GC) team comprising of Japan International Consultants for Transportation – Nippon Koei – Oriental Consultants Global, and is now looking to appoint a dedicated PMC to manage construction work, a bulk of which is under construction by Larsen & Toubro.
NHSRCL had invited tenders (bids) for the PMC service's contract on November 11 and plans to select a consultant based on the Quality and Cost Based Selection (QCBS) method. Technical bids were opened in December-end 2020 to reveal 3 bidders.
Qualified Bidders & Score (out of 100)
Nippon Koei – Oriental Consultants Global Co. – RITES JV (97.25)
Tata Consulting Engineers – Consulting Engineers Group – Aarvee Associates – PADECO Co. JV (99.25)
Disqualified Bidders:
Engineers India – RODIC Consultants – STUP Consultants – LEA Associates South Asia JV
Package: NHSRCL/CO/CA/MA-SVGC/2020/34
Brief Scope: Project Management Consultancy Services for Construction of Civil Works Packages of Mumbai Ahmedabad HSR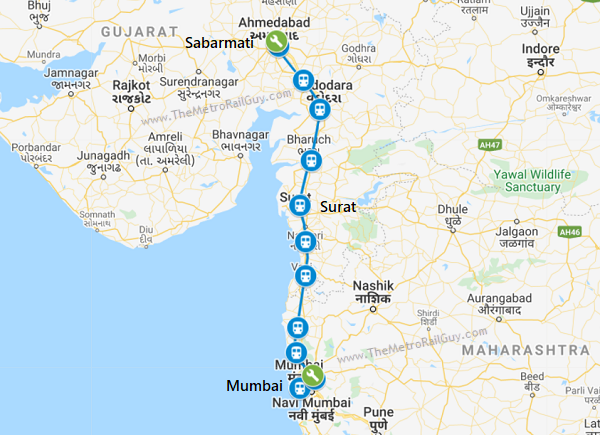 Financial bids are planned to be opened on this Monday, so stay tuned to find out the winner. A PMC will be selected based on their combined technical & financial score.
In other news, Overseas Mintech today emerged as the lowest bidder among 4 firms for both the 435 km Chennai – Mysore HSR and 760 km Varanasi-Howrah HSR's Environmental Impact Assessment (EIA) contracts. With this, NHSRCL's team of consultants for preparing different sections of each line's detailed project report (DPR) is almost ready. Links above have a table of winners for each type of contract.
For more updates, check out my Home Page!
– TMRG