Gulermak – Tata Projects Ltd. JV has in the past fortnight quietly commissioned Pune Metro's tunnel boring machines S78 (Mutha) and S79 (Mula) at Civil Court Station for building twin tunnels towards Budhwar Peth Station on the city's 16.589 km Purple Line.
Both these Ø6.61m Terratec EPB machines had arrived at Civil Court Station's NATM crossover cavern in September & November 2020 from Shivajinagar Station. Since then, they underwent minor refurbishment while the station's launch area in the south-east side got prepared.
Some really cool images of them being extracted out of the tunnels they built and into the crossover cavern can be viewed here and here.
For their latest assignment, both machines will now travel roughly 680 meters towards Budhwar Peth and along the way pass approximately 18 meters underneath the 80 meter wide Mutha River. This is their 3rd drive on the 31.254 km Phase 1's 3.78 km package UGC-01 which connects Range Hills Ramp and Budhwar Peth.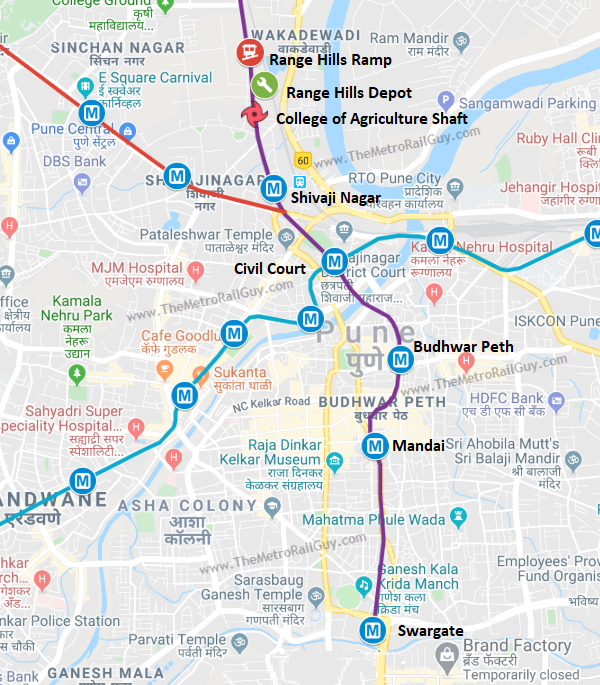 Here's a snap shot earlier this month with both machines lined up at Civil Court Station's south-east side. I hear TBM S78 (Mutha) working on the up-line tunnel (left side) has already excavated 45 meters.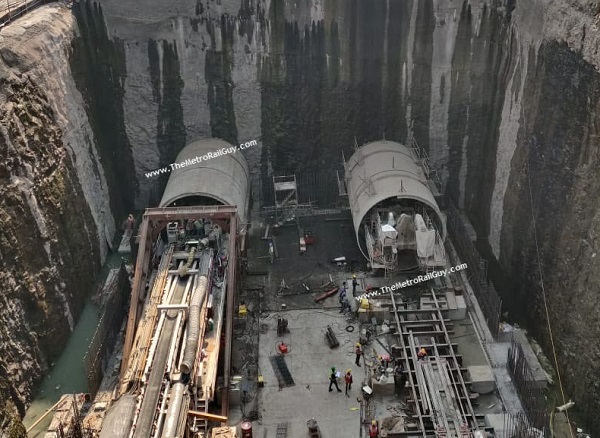 Here are some snaps via MahaMetro of Budhwar Peth Station where excavation for the retrieval shaft is nearing completion.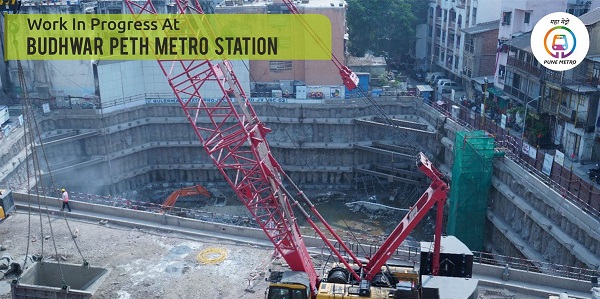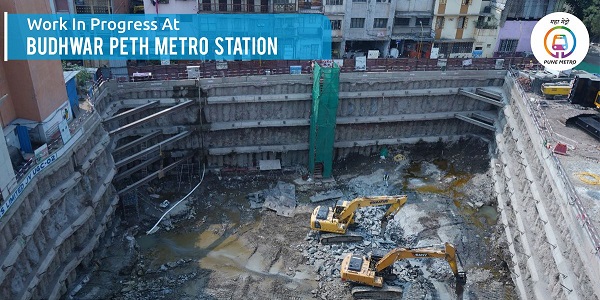 In other news, Gulermak-TPL has started secant piling for Mandai Station's box next to the biggest retail vegetable market of the city. This is where TBM S81, which just started excavating from Swargate northwards, will arrive.
As shared earlier, either S78 or S79 might in the involved in building one of Package UGC-02's tunnels, between Budhwar Peth – Mandai – Swargate, but that remains to be seen. As things stand right now, all 3 machines are racing towards Budhwar Peth.
For more updates, check out my Home Page!
– TMRG