National Capital Region Transport Corporation (NCRTC) this weekend announced that the first lot of Class A 880 grade rails have arrived at Duhai Depot for the 82.15 km Delhi – Meerut RRTS Line.
Larsen & Toubro was awarded this semi high-speed rail line's ballastless and ballasted track-work contract (Package 17) in October 2020 with a value of Rs. 648.46 crore.
Following that, L&T in December started construction work on a plant in Shatabdi Nagar to manufacture precast track-slabs. Per NCRTC, these track slabs will be transported to the site and grouted on the viaduct to ensure extremely accurate and fast track laying.
That said, these tracks have been manufactured through Package 16's Lot-2 by Jindal Steel and Power Limited (JSPL) in Raigarh, Chhattisgarh. Per the package's scope, 4000 MT of 60 KG 880 Grade Rail Class-A rails will be supplied for Duhai Depot and the depot-line connecting to the main-line's 18 km priority corridor (Sahibabad – EPE Duhai).
Here's a collage shared by NCRTC's MD on LinkedIn: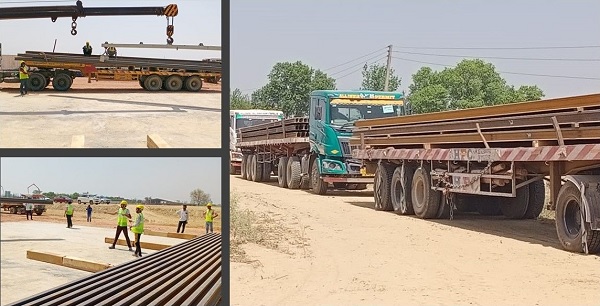 Ballastless tracks for the viaduct were chosen by NCRTC based on PORR Bau's recommendation for the following reasons:
Low maintenance requirements
Less dimension of track both depth and width (results in reduction of tunnel diameter)
Saving in elevated structure cost due to less weight
Maintenance of complex geometric parameters of track
Increased service life
Make in India – equal opportunity for Indian contractors
Per NCRTC, the first lot of 2000 MT of 1080 Grade Head Hardened rails will be also be "reaching in the coming months". Those belong to Package 16's Lot-1 and the winner for that contract remains unknown. If someone is aware, please drop a comment below or send me an email.
Update: NCRTC today posted a video with some nice construction views of the Yamuna Bridge (Package 6) and the 18 km Sahibabad – Duhai Priority Corridor (Package 1 & 2):
For more updates, check out my Home Page!
– TMRG