Workers from NCC in the past fortnight have started tying rebar to form piers at Bhootnath for constructing Patna Metro's 6.107 km Malahi Pakri – New ISBT section of the 14.05 km Line-2 (Patna Junction Railway Station – New ISBT).
Construction works on Patna Metro's Phase 1 – India's 21st system to enter the construction stage – started with piling works in December 2020. At least two piers are now visible with staging works underway to facilitate the start of pier casting.
Here's a video by a local YouTuber named The Incredible:
NCC was awarded Package PC-01's Rs 552.93 crore contract by the Delhi Metro Rail Corporation (DMRC) in September 2020 with a 30 month deadline.
Their scope includes building this 6.107 km section's viaduct and 5 elevated stations at Malahi Pakri, Khemni Chak, Bhoothnath, Zero Mile and New ISBT. It also includes a viaduct leading to the New ISBT Depot, as well as a small rake-interchange viaduct at Khemni Chak connecting to the 16.85 km Line-1.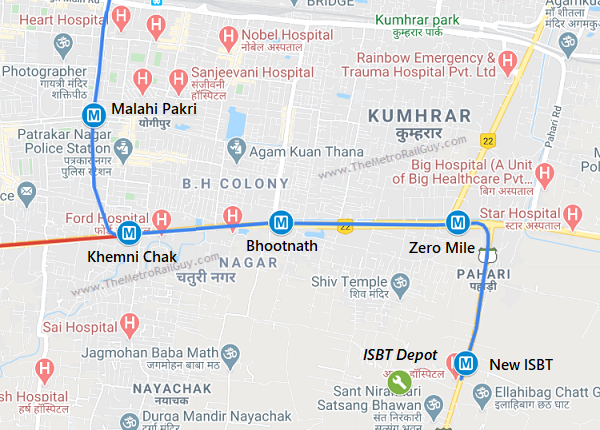 Construction work is mostly going on Bypass Road (Khemni Chowk – Zero Mile), but I hear new barricades are also up near Malahi Pakri Chowk.
Technical bid evaluation is still underway for Phase 1's two other packages, so it'll be a while before ground work begins elsewhere in the city.
For more updates, check out my Home Page!
– TMRG