Gulermak – Sam India JV this week began geotechnical soil investigation for Kanpur Metro's 3.964 km underground section (KNPCC-05) connecting the Ramp at Permat with Nayaganj Station.
An investigation along this route of the 32.385 km Phase 1 project had previously been subcontracted in 2019 by Uttar Pradesh Metro Rail Corporation (UPMRC). This new round of testing with standard penetration tests (SPT) at 36 boreholes is being done to revalidate those findings to help properly design and construct the line's twin tunnels and stations.
Tunnel and Cross-Passages: Investigation is being done at roughly 150m center to center spacing with a drilling depth of 6m (1 times tunnel diameter) below the invert (base) level of the tunnel
Ramp and Cut & Cover Portion: 4 boreholes are proposed with a drilling depth of 6m below the rail level
Stations: 4 boreholes are planned at each station's site (Chunniganj, Naveen Market, Bada Chauraha and Nayaganj) with three boreholes of approx. 27m depth and one borehole of 47m depth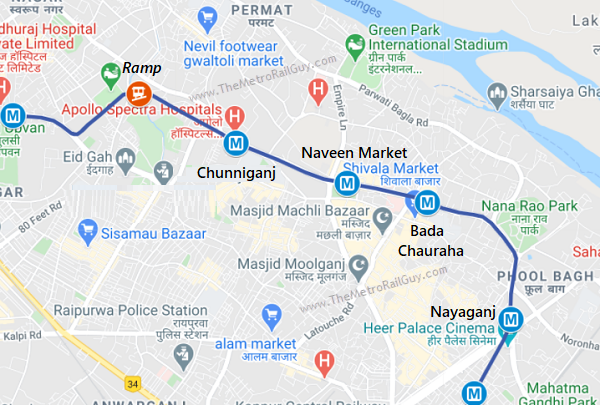 Here are some snaps from different sites with work by Indian Geotechnical Services getting supervised by the General Consultant TYPSA-Italferr JV's personnel (seen in white hard-hats).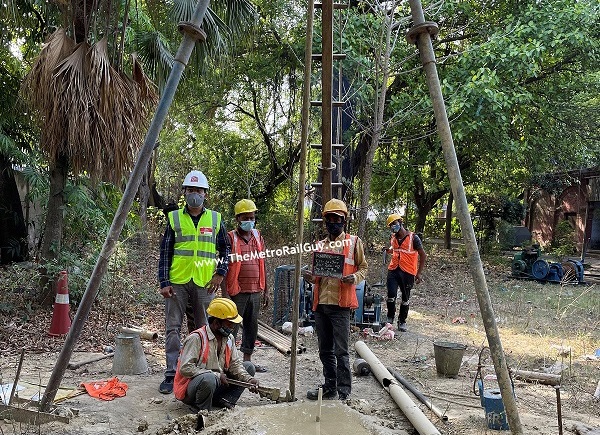 Geotechnical works are expected to take about 2 months to get over.
Gulermak – SAM India had received UPMRC's LOA for Kanpur Metro's first underground contract in March with a combined value of Rs. 769.23 crore & USD 3.674 million. A tender notice for the second underground section connecting Kanpur Railway Station and Transport Nagar Ramp is currently pending.
For more updates, check out my Home Page!
– TMRG