January 18, 2021 Update: DMRC has issued LOA for DC-05 to Afcons Infrastructure with a contract value of INR 2404,99,99,990.71 + EURO 85,79,782 (Approx. Rs. 2481,50 crore) – see details.
November 23, 2021 Update: Afcons Infrastructure is lowest bidder (L1) for DC-05's contract – see details.
June 21,2021 Original Post: Delhi Metro Rail Corporation (DMRC) on June 10 invited tenders to construct the final underground section of the Magenta Line's 28.92 km extension between Janakpuri West – RK Ashram.
This 7.46 km underground section – part of Package DC-05 – connects a ramp north of Derawal Nagar with RK Ashram via 6 stations at Derawal Nagar, Ghanta Ghar, Pulbangash (interchange with Red Line), Sadar Bazar, Nabi Karim & Ramakrishna Ashram Marg (interchange with Blue Line).
This is Magenta Line's 4th (and final) civil package in the 65.1 km Phase 4 project. Other packages are 12.375 km DC-01, 7.473 km DC-03R, 2.03 km underground DC-06 – all of which are under construction. This is also the Magenta Line's only package to be funded by Japan International Cooperation Agency (JICA) through a Rs. 8,390 crore loan.
Brief Scope: Design & Construction of Twin Tunnel by shield TBM, Tunnel by Cut & Cover, Underground ramp at Derawal Nagar and Six underground stations viz. Derawal Nagar, Ghanta Ghar, Pulbangash, Sadar Bazar, Nabi Karim & Ramakrishna Ashram Marg Including Architectural Finishing, Water supply, Sanitary installation, Drainage works of stations on Janakpuri West to R.K. Ashram Corridor (Line-8 Ext.) of Phase-IV of Delhi MRTS
Completion Period: 42 months
Pre-Bid Meeting: 26.06.2021 at 1100 hrs
Bid Submission End Date: 28.07.2021 at 1500 hrs
Technical Bid Opening Date: 29.07.2021 at 1500 hrs
DMRC had previously estimated this section to cost Rs. 2444.828 crore making it the largest civil package of the project.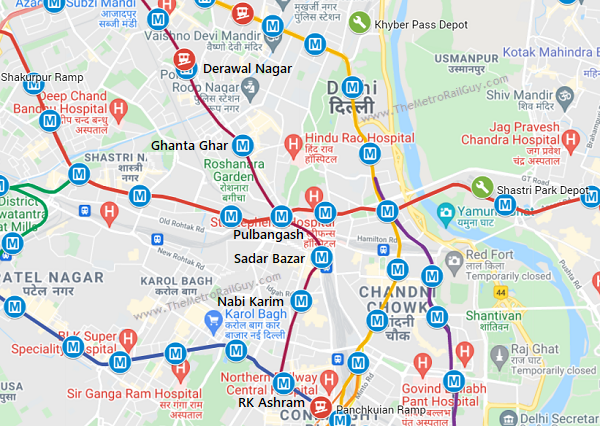 Some interesting callouts mentioned in the tender's detailed scope and alignment document:
DMRC requires the assigned contractor to use just 4 tunnel boring machines (TBMs)
A 168 meter ramp and Derawal Nagar Station's box will come up at Ismail Khan Park opposite Gurudwara Nanak Piao Sahib
The line curves around GT Road between Derawal Nagar and Ghanta Ghar to avoid Tripolia Gate (2 historic gates smack-dab on the highway)
Architectural drawings show Nabi Karim's box getting built as a plus-shaped box to allow for a future interchange (a new 12.58 km Inderlok – Indraprastha line was earlier in the works for Phase 4, but not approved).
RK Ashram Station will include a 185 meter track cross-over to allow trains to switch between down and up lines. Entire cut and cover box (584.071m long) will come up north of the Blue Line's existing station.
DMRC has publicly posted they're chasing a June 2024 deadline to start operations on the Magenta Line's 28.92 km extension between Janakpuri West – RK Ashram. That just won't be possible due to construction practicalities and I see this section opening no sooner than mid-2026.
With this final tender notice finally published, metro construction works in early 2022 will return to Central Delhi after a gap of more than 10 years as Phase 3 focused on connecting outer and fringe suburban areas. The network in that part of town will become super dense. Hopefully this will encourage revitalization projects along its catchment area.
For more updates, check out my Home Page!
– TMRG