July 7 Update: Tender has been cancelled as Alstom's bid was 28.8% higher than DMRC's budgeted estimate.
June 26 Original Post:
Alstom Transport India on June 15 emerged as the lowest bidder for the the 25 kV AC OHE traction work at the 38.235 km Magenta Line's new 2.03 km underground extension between Janakpuri West and Krishna Park Extension.
DMRC invited bids for this package (DE-05) of the 65.1 km Delhi Metro Phase 4 project in December 2020 with an estimate of Rs. 17.67 crore and completion deadline of 36 months (3 years).
Technical bids were opened in February 2021 to reveal 3 bidders. During bid evaluation, Hitech Erectors' bid was found non-compliant to the conditions and was disqualified.
Financial Bid Values:
| | |
| --- | --- |
| Firm | Bid (Rs. Crore) |
| Alstom Transport India Ltd. | 22.76 |
| Siemens Ltd. | 28.09 |
Package: DE-05
Brief Scope: Design, Detail Engineering, Manufacture, SITC of 25 KV AC Traction (RIGID OHE), 33KV ASS, Associated Cabling and SCADA Systems for Krishna Park Underground Station of Janakpuri west to R. K Ashram corridor (Extn. of Line-8) of Phase-IV Delhi MRTS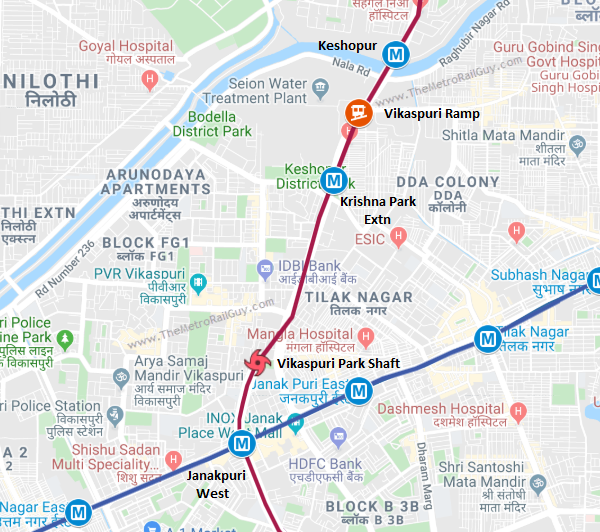 Alstom's bid was 28.8% higher than DMRC's budgeted estimate, but only Rs. 5 crore in pure numerical terms (a drop in DMRC's overall Phase 4 budget), so a contract to Alstom should be awarded in the coming weeks.
Package DE-05 is among 44 packages that will be specifically funded by Japan International Cooperation Agency (JICA) through a Rs. 8,390 crore loan.
This new 2.03 km underground extension (DC-06) is under construction by HCC-VCCL JV. Tunneling work by TBM Triveni started on January 21 and DMRC recently announced the completion of 500 meters out of 1.4 x 2 tunnels in scope.
For more updates, check out my Home Page!
– TMRG