Per National Capital Region Transport Corporation (NCRTC)'s updated website, URC Construction and Metcon-CP JV in April were each awarded 1 lot of the 82.15 km Delhi – Meerut RRTS Line's Package 11.
NCRTC had invited bids for this package in October 2020 dealing with architectural finishing and electrical & mechanical (E&M) works at 11 elevated stations. They estimated it to cost a combined USD 24.88 million (approx. 182 crore) and with a deadline to complete work in 3.73 and 4.06 years.
Package 11 Lot-1
Brief Scope: Architectural Finishing for 2 Elevated Stations (viz. Sarai Kale Khan and New Ashok Nagar Stations) and E and M Work from Sarai Kale Khan to New Ashok Nagar DN Ramp of Delhi – Ghaziabad – Meerut RRTS Corridor.
Both of these stations within Delhi are part of Package 6 which was awarded to Afcons Infrastructure in October 2020. Civil construction work started in January 2021 with the first pier getting ready in June.
Bidders (8): Metcon-CP JV, Jakson, Canon Fasteners, Bucon Infratech, Himcon Engineers, URC Construction, Montecarlo, Brawn Globus Turnkey Solution
Awarded to: Metcon India Reality and Infrastructure – C.P. Associates JV (view letter of acceptance)
Value: Rs. 63.35 crore
I've never heard of Metcon, but see on their website they've undertaken projects for power plants, railways, and performed architectural finishing works at the Delhi Metro Yellow Line's INA Station.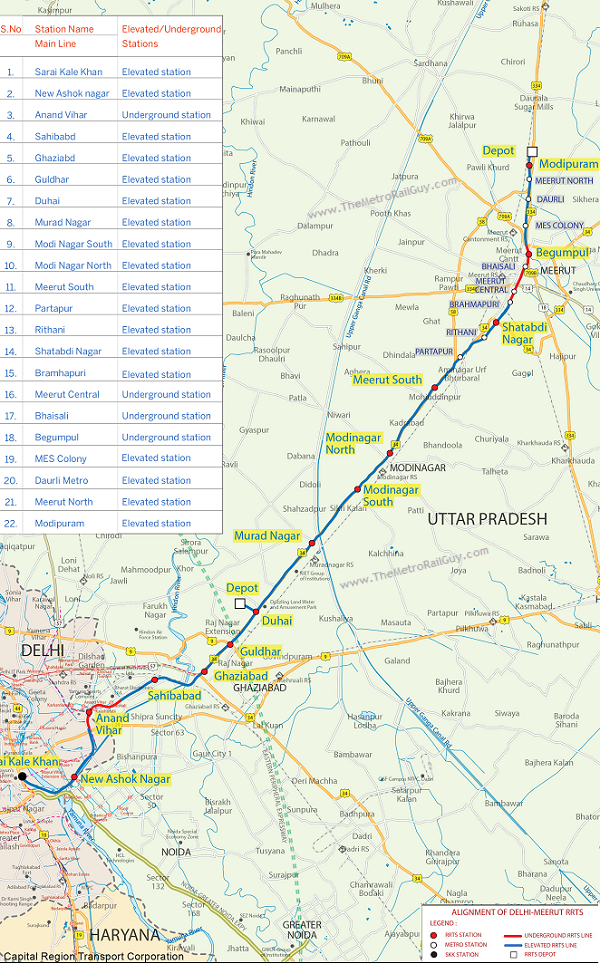 Package 11 Lot-2
Brief Scope: Architectural Finishing for 9 Elevated Stations and E and M work from Duhai (EPE) to start of Partapur Station and Begumpul UP Ramp to Modipuram of Delhi – Ghaziabad – Meerut RRTS Corridor.
The 9 stations here are located at Duhai, Murad Nagar, Modinagar South, Modinagar North, Meerut South, Partapur, Rithani, MES Colony, Daurli, Meerut North, Modipuram. They're a part of Package 3 and Package 7 – both awarded to Larsen & Toubro in March and November 2020 respectively, with ground work starting in July and December respectively.
Bidders (2): Jakson and URC Construction
Awarded to: URC Construction Pvt. Ltd. (view letter of acceptance)
Value: Rs. 150.44 crore
A list of the Delhi – Meerut RRTS project's packages (civil & systems) and their status can be viewed here.
I'm currently missing information about the winners for the following 3 packages where financial (price) bids have been opened. If someone knows, just leave a comment below or shoot me a message via the contact page.
Package 10: Architectural Finishing and Electrical & Mechanical (E&M) systems at 7 elevated stations – there were 6 bidders
Package 12B (2 lots): Roof-work at 12 elevated stations – 3 bidders submitted a bid for each lot (total 6 bids)
Package 16 (2 lots): 2000 MT of 1080 Grade Head-Hardened and 4000 MT of regular 880 Grade rails within Duhai Depot, Modipuram Depot and Jangpura Stabling Yard – 2 bids were received for Lot-1 and 1 bid for Lot-2 (bidder names are unknown)
Here's a fantastic new video by NCRTC with flybys and views from across different construction sites. Like STEC in Anand Vihar, Afcons in Bhaisali has started station diaphragm works (visible at the 3:48 mark).
For more updates, check out the RRTS section or my Home Page!
– TMRG
Subscribe to Free Email Notifications