What a day. Delhi Metro on Friday recorded an important network milestone by opening the Pink Line's 1.38 km long-pending Trilokpuri link between Mayur Vihar Pocket 1 and Trilokpuri- Sanjay Lake stations.
The opening of this little but crucial section of the 162 km Phase 3 – which brought Delhi Metro Rail Corporation (DMRC)'s legal machinery to its knees for 7 years – has led to the unification of the city's 58.6 km Pink Line which now operates as a seamless line connecting Majlis Park and Shiv Vihar via 38 stations.
The benefit to commuters, especially to those living in East Delhi (Jamna-Paar) and traveling to parts of South Delhi or Gurgaon, are tremendous from a time and cost perspective. They'd no longer have to go all the way to CP (Rajiv Chowk) or Central Secretariat to switch lines – see map here.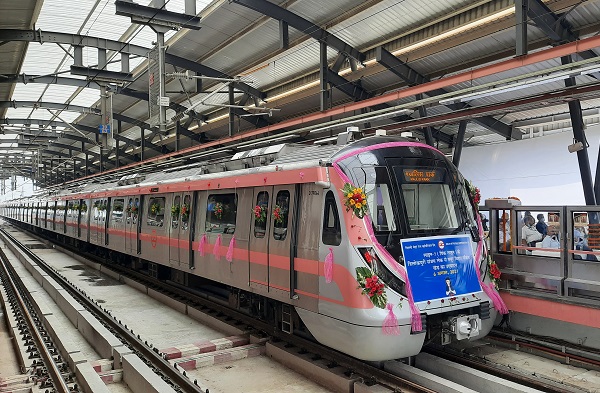 Inauguration Video
Brief History
Construction work on this elevated section of Line-7 was originally awarded to ITD – ITD Cem JV in November 2012 as part of Package CC-26R. Work couldn't take off due to major delays in securing land for its construction over a 288.38 section in Trilokpuri's Block-15 – read all about that contentious issue in this post from 2016.
After securing land and several rounds of tendering, its civil contract was awarded in December 2019 to Pragati Construction Consultants with a 1 year deadline and value of Rs. 20.59 crore. All 10 required piers and steel composite girders were built & launched to wrap up civil work in April – see images here.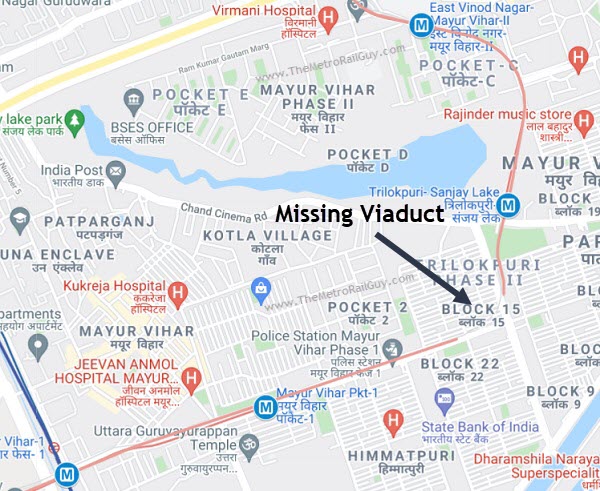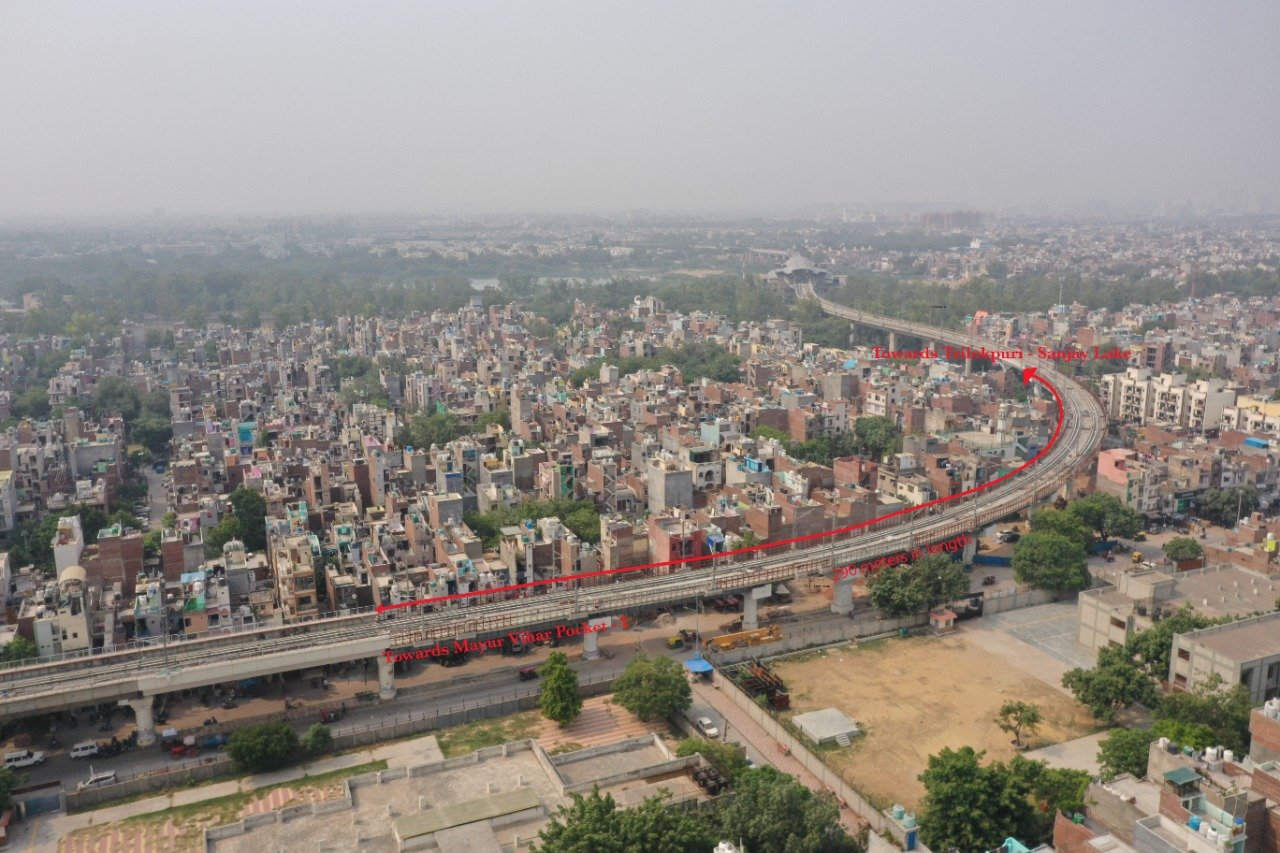 Train Operation Plan
DMRC's press release offers the following insights. Note – UTO "driverless" operations are months away from starting on the Pink Line.
Train services from Majlis Park to Sarai Kale Khan Nizamuddin and Shiv Vihar to IP Extn sections will be available with a frequency of 5 min 12 sec, with 43 trains including standby trains during peak hours.

Services from Sarai Kale Khan Nizamuddin to IP Extn section will be available with a frequency of 10 min 24 sec with every alternate/2nd train going from Nizamuddin towards IP Extn and vice versa.

Trains will be run with a temporary speed restriction of 25 KMPH between Mayur Vihar Pocket-1 and Trilokpuri-Sanjay Lake stations (around 1.5 KM distance) due to non-availability of automated signaling system in this stretch which is still under commissioning.

The integration of the signaling system of this particular stretch in an already operational line is a challenging task and it is expected to get the system commissioned in about the next two months time. Thereafter, trains will move with regular speed on this stretch too, eliminating the need for speed restriction.
I consider the city's Phase 3 project to now be practically complete with the core network becoming roughly 348 km long. The Blue Line (lines 3/4) at roughly 64 km is still the longest line in the network, but when broken up by line number, the Pink Line (Line-7) at 59 km is now the longest, forming a U shape primarily along the Ring Road. Around 2025, it will become a circular line as part of the Phase 4 project.
The Grey Line's 1.218 km Najafgarh – Dhansa Bus Stand section – a late addition to the Phase 3 project – was also supposed to inaugurated on Friday but that has been put on hold due to pending station architectural finishing work. Stay tuned…
For more updates, check out the Delhi Metro section or my Home Page!
– TMRG