IRCON International on Monday emerged as the lowest bidder for the design, manufacturing and installation of tracks (Package T-2) of the 508.17 km Mumbai – Ahmedabad High Speed Rail (MAHSR Bullet Train) project.
Package T-2 in Gujarat is the first and longest of three track related packages (T-1, T-2, T3) of this HSR line which will connect both cities through 12 stations at an estimated cost of Rs. 1.1 lakh crore (US $15 billion). It spans the entire length (237.1 km) of civil package C4 (MH/GJ border to Vadodara) which is under construction by Larsen & Toubro.
NHSRCL invited bids for this package in January 2021 with an undisclosed estimate and 2738 day (7.5 year) completion period. Technical bids were opened in August to reveal 4 bidders. During evaluation, NCC-Rahee JV's bid was disqualified as it wasn't responsive to the tender's requirements.
Financial Bid Values:
| | |
| --- | --- |
| Firm | Bid (Rs. Crore) |
| IRCON International | 5142 |
| Larsen & Toubro (L&T) | 6040 |
| Afcons – Texmaco JV | 7285 |
| NCC – Rahee JV | Disqualified |
IFB Number: Package No. MAHSR – T-2
Brief Scope: Design, Supply and Construction of Track and Track related Works including Testing and Commissioning on Design-Build Lump Sum Price basis for Double Line High Speed Railway between Zaroli Village at Maharashtra-Gujarat Border (MAHSR Km. 156.600) and Vadodara (MAHSR Km. 393.700) in the State of Gujarat and the Union Territory of Dadra and Nagar Haveli for the Project for Construction of Mumbai Ahmedabad High Speed Rail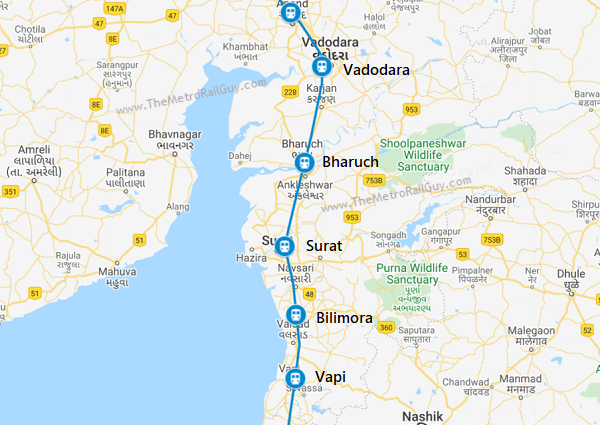 NHSRCL's estimate for this package is unknown, so I can't provide an assessment on how IRCON's bid is placed and what next steps look like.
This is IRCON's second win. Back in October, they were the lowest bidder for civil package C7 and a LOA / contract for that hasn't been awarded yet.
As shared earlier, a special slab track system will be utilized for the Bullet Train project instead of a conventional ballasted track system found in main-line railway lines. NHSRCL has a dedicated page for this with information on its economics and dynamics. Here's an excerpt:
Performance of Slab Track is better for High Speed Railway compared to ballasted track due to its higher flexural stiffness and it is because of this that the forces in Slab Track are distributed over a larger area and deflections are considerably less compared to ballasted track. This ultimately results in lesser maintenance requirement in Slab Track structure.
Although initial construction cost of Slab Track is higher compared to ballasted track, the difference is compensated within few years of operation because of less maintenance and labour requirements in Slab Track. Slab Track structure is particularly advantageous in case of viaduct and tunnel due to its lighter and sleek structure.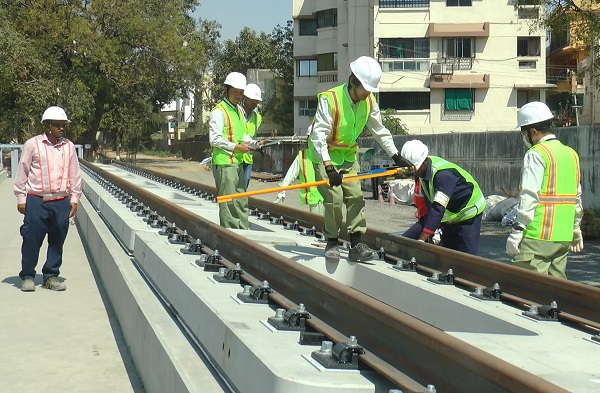 Here's the scope and status of the Mumbai – Ahmedabad Bullet Train's 3 track-work packages – see a list of all civil/system packages here.
| | |
| --- | --- |
| Package | Status |
| T-1 (Maharashtra): Design, Supply & Construction of Track & Track related works between HSR station at BKC/ Mumbai and Zaroli Village on MH/GJ border (156.855 km) | Tender Notice Pending |
| T-2 (Gujarat): Design, Supply & Construction of Track and Track related works between Zaroli Village and Vadodara (237.10 km) | IRCON is lowest bidder (this post) |
| T-3 (Gujarat): Design, Supply & Construction of Track and Track related works between Vadodara and Sabarmati Depot and workshops (114.60 km) | Bidding Underway; Bids to be opened Dec 23, 2021 |
For more updates, check out the High Speed Rail section or my Home Page!
– TMRG