Larsen & Toubro on Wednesday started pouring concrete to cast the first pier of the 508.17 km Mumbai – Ahmedabad High Speed Rail (MAHSR Bullet Train) project which will connect both cities through 12 stations in Maharashtra and Gujarat.
This milestone in Gujarat's Valsad District was recorded roughly 3 months after workers started pouring concrete for the first pier's open foundation (pile cap). Shuttering panels (seen in blue below) to facilitate casting work arrived on-site last week.
This pier (P-13) at chainage KM 205+500 is located on the line's 237.1 km Package C4 which is among the only 2 of 8 civil packages awarded so far for the main-line's construction. It represents 46.66% of the main-line, making it the longest amongst all, and runs elevated from Zaroli Village on the Maharashtra – Gujarat border to Vadodara through 4 stations at Vapi, Bilimora, Surat and Bharuch.
C4 also includes construction of the Surat Depot, 14 river crossings, 42 road crossings, 6 railway crossings and one 350 meter tunnel through a hill.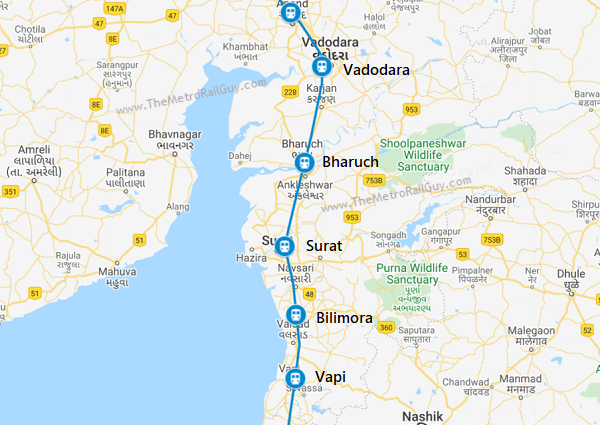 Video:
As a reminder – a bulk of the line (468 / 508 km) will be elevated, with contractors like L&T planning to use the full span launching method for its construction.
Few weekends ago, I fine-tuned the line's alignment within Gujarat here to match its exact alignment. If you switch to the satellite view, you can see site clearance for vast stretches of land between Ahmedabad and Vadodara. In fact, south of Vadodara at Bodka village – 3 mega projects are visible within 2 kms of each other. West to east: Delhi – Mumbai Expressway (DME), Mumbai – Ahmedabad Bullet Train (MAHSR) and Western Dedicated Freight Corridor (WDFC).
For more updates, check out my Home Page!
– TMRG