June 17 Update: TCE – Aarvee – CEG – Padeco JV was today issued a LOA by NHSRCL to provide project management consultant (PMC) services.
March 22 Original Post:
Tata Consulting Engineers – Consulting Engineers Group – Aarvee Associates – PADECO Co. JV today emerged as the lowest bidder to provide project management consultancy services for the civil construction of the 508.17 km Mumbai – Ahmedabad High Speed Rail (MAHSR Bullet Train) project.
India's National High Speed Rail Corporation (NHSRCL) had invited tenders (bids) for the PMC service's contract on November 11 based on the Quality and Cost Based Selection (QCBS) method.
Technical bids were opened in December-end 2020 to reveal 3 bidders. Within those, two consortia qualified after technical evaluation was completed last week where the Tata JV also scored the highest technical score.
Financial Bid Values:
| | |
| --- | --- |
| Firm | Bid (JPY + INR) |
| Tata Consulting Engineers – Consulting Engineers Group – Aarvee Associates – PADECO Co. JV | 1364,830,000 JPY + 1014,94,15,952 INR |
| Nippon Koei – Oriental Consultants Global Co. – RITES JV | 1,865,298,944 JPY + 1182,86,82,673 INR |
Package: NHSRCL/CO/CA/MA-SVGC/2020/34
Brief Scope: Project Management Consultancy Services for Construction of Civil Works Packages of Mumbai Ahmedabad HSR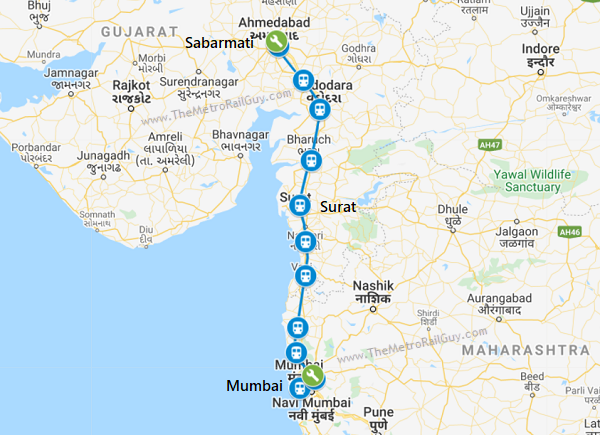 Tata JV's bid works out to be approximately Rs. 1111 crore. When awarded, they will be onboard with a tenure of 96 months.
Per NHSRCL's press release, their scope will include supervision for all 13 civil works packages including viaducts, concrete / steel bridges, tunnels (undersea & mountain tunnels), civil work of all 12 stations, maintenance depots, and Training Institute building.
NHSRCL last week tweeted that more than 110 piling machines and other construction related machinery are now at work on the 237 km Package C4 which runs from the Maharashtra / Gujarat border near Vapi to Vadodara. Although late, the appointment of a dedicated PMC team will now greatly help manage, provide oversight and leadership to NHSRCL in executing the project.
For more updates, check out my Home Page!
– TMRG