February 14, 2022 Update: Afcons Infrastructure – Sam India JV is lowest bidder (L1) – see details and bid values.
November 11, 2022 Original Post: 7 construction firms / consortia have submitted tenders to construct Agra Metro Phase 1's underground section (AGCC-02) between RBS College Ramp and Taj Mahal Ramp after Uttar Pradesh Metro Rail Corporation (UPMRC) opened technical bids today.
This 7.93 km package from chainage 3630 to 11564.485 consists of twin tunnels connecting 7 stations at Taj Mahal, Agra Fort, Jama Masjid, SN Medical College, Agra College, Raja ki Mandi and RBS College.
Per the tender documents, the assigned contractor will be required to deploy just three (update: now four) tunnel boring machines (TBMs). I expect construction to likely start first on the Taj Mahal – Jama Masjid section, which along with Sam India's 4 km elevated AGCC-01 on Fatehabad Road forms a part of Agra Metro's 7 km Priority Section.
UPMRC invited bids for this package in August 2021 with a Rs. 2200 crore estimate and 4 year completion deadline. This contract will be financed by the European Investment Bank (EIB) through a 480 million Euro loan.
Bidders:
Afcons Infra – SAM India JV
DRA – Evrascon JV
Gulermak Agir Sanayi Insaat ve Taahh. A.S.
ITD Cementation India
J Kumar Infra – NCC JV
JMC Projects – CAI JV
Larsen & Toubro (L&T)
Package: AGCC-02
Brief Scope: Design and Construction of Tunnel from start of underground ramp (near Fatehabad Road Metro station) to end of ramp after RBS college Metro station including seven underground metro stations (viz. Taj Mahal, Agra Fort, Jama Masjid, S.N. Medical college, Agra college, Raja ki Mandi and RBS college) including Architectural finishes, E&M, TVS, ECS etc. on Corridor-1 of Agra MRTS Project at Agra, Uttar Pradesh, India.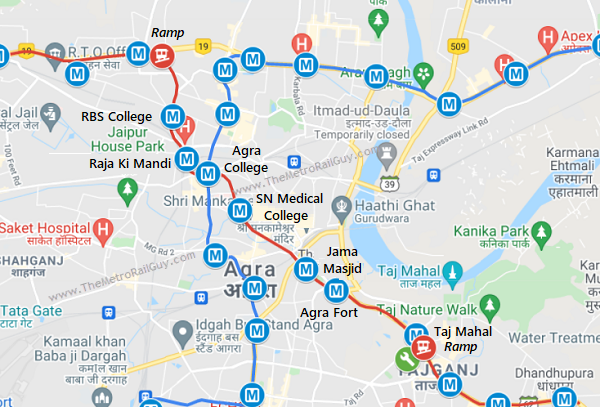 All 7 bids have now been sent for technical evaluation which can take a couple months to complete. When that is done, the financial bids of the technically qualified bidders will be opened to reveal who's the lowest bidder and most likely contractor.
Agra College will serve as the interchange station for Phase 1's 14.25 km Line-1 (Sikandra – Taj East Gate) and 15.40 km Line-2 (Agra Cantt. – Kalindi Vihar). The scope of AGCC-02 of course only includes Line-1's underground station box.
All stations' exact locations have been marked on the map located here. Jama Masjid and Agra Fort stations are just 631 meters apart – the shortest distance between any 2 stations.
For more updates, check out the Agra Metro section or my Home Page!
– TMRG