Besides TBM S-1264, TBM S-1259 operated by Afcons Infrastructure also recorded a breakthrough at Dairy Circle Station on Bangalore Metro's 21.386 km Pink Line which will connect Nagawara – Kalena Agrahara through 18 stations.
Nicknamed Rudra, this was TBM S-1259's first of three breakthroughs, and Afcons' second of eight breakthroughs for the 3.655 km Package RT-01 (Rashtriya Military School Station – Dairy Circle Ramp) of the 73.92 km Bangalore Metro Phase 2 project. Overall, this is Phase 2 project's 4th breakthrough of likely 26 currently planned.
This Herrenknecht slurry machine was commissioned on April 23 from the South Ramp at Dairy Circle and traveled 614 meters to pierce through Dairy Circle Station's diaphragm wall. Excavation for the station's box is still underway, so the breakthrough was "hidden" and not visible to construction workers.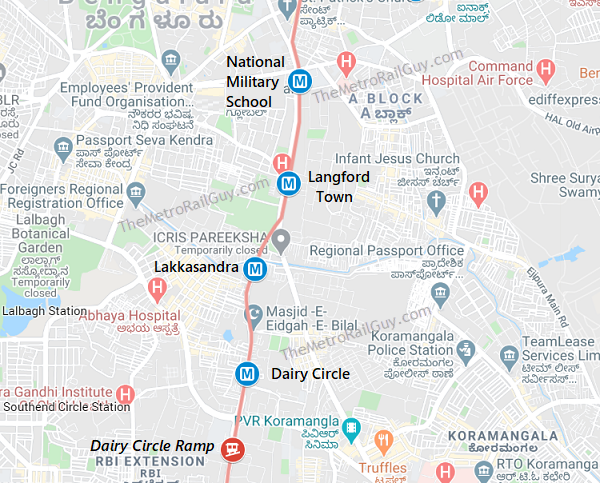 Similar "hidden" TBM breakthroughs have been performed by Afcons Infrastructure at Chennai Metro's Sir Theagaraya College Station (By S-711 and 219-364) and at Kolkata by TBM S-639 at Howrah Station & Mahakaran Station, and by TBM S-616 recently at Bowbazar Shaft.
Per the tunneling plan – Rudra will now continue building rings for the up-line tunnel through Dairy Circle Station's box towards Lakkasandra Station – a distance of 747.338 meters which Afcons hopes to complete within 243 days. During Dairy Circle Station's excavation, those rings will be dismantled.
Rudra's final assignment includes building a 714.510 meter tunnel towards Langford Town Station, which Afcons hopes to complete in 157 days.
Per BMRCL's October newsletter, Afcons' third machine Vamika (S-1260) working on the down-line had built 187 rings (261.80m or 42.7%). I'll update this section if and when latest numbers are released.
For more updates, check out the Bangalore section or my Home Page!
– TMRG