Krishna Constellation Pvt. Ltd. on Wednesday emerged as the lowest bidder to construct the 50.7 km Haridwar Spur of the 210 km Delhi – Saharanpur – Dehradun Expressway project.
This six-lane access-controlled highway will have its eastern end just south of Saharanpur, pass north of Roorkee, and then terminate at the proposed Haridwar Ring Road project. India's union government approved its construction in mid-November with a budget of Rs 2,095 crore.
The project's Detailed Project Report (DPR) was prepared by Transys Consulting Pvt. Ltd. in 2020.
National Highways Authority of India (NHAI) invited tenders for its construction in August with a 2 year deadline and Rs 1,237.95 crore estimate. Technical bids were opened in November to reveal 14 bidders.
Financial Bid Values (lowest 5)
| | |
| --- | --- |
| Firm | Bid (Rs. Crore) |
| Krishna Constellation | 1359.32 |
| Megha Engineering | 1389.29 |
| Gawar Construction | 1434.36 |
| IRCON International | 1458.99 |
| CDS Infra Projects | 1460.91 |
Brief Scope: Development of a six-lane access-controlled Spur to Haridwar from Delhi-Saharanpur-Dehradun Economic Corridor near Halgoya village in the state of Uttar Pradesh traverses through northern side of Roorkee and merges with NH-334 (Old NH No. 58) at existing km 182+070 (design chainage 43.900) near Badheri village and Uttarakhand on hybrid annuity mode under Bharatmala Pariyojana.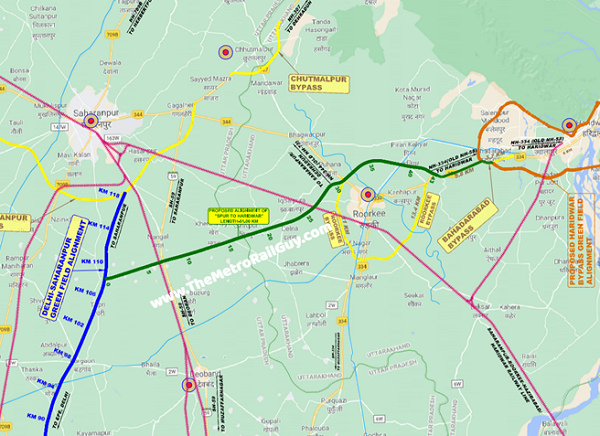 Krishna's bid of Rs. 1359 crore was 9.8% higher than NHAI's estimate which is within their permissible limit, so a contract should be awarded in the coming weeks.
I hear financial bids for Delhi – Dehradun Expressway Phase 2's 27 km Package 1 were also opened on Wednesday. If anyone has its results, leave a comment below or shoot me a message using the contact page.
Details on the Delhi-Dehradun Expressway along with a list of all packages and their status can be viewed here.
For more updates, check out the Expressway section or my Home Page!
– TMRG