Terratec has announced the completion of factory acceptance tests for 3 tunnel boring machines for use by Afcons Infrastructure on the 5.68 km underground Package 8 of the 82.15 km Delhi – Meerut (RRTS) Line.
Christened S88, S89 and S90 – these new 7.51m diameter Earth Pressure Balance Machines (EPBMs) will be deployed to build the Brahampuri Down Ramp to Begumpul Up Ramp section in Meerut city through 3 stations at Meerut Central, Bhaisali and Begumpul.
Afcons was awarded Package 8's Rs. 1529.10 crore contract in November 2020 with a 1310 day (3.6 year) deadline.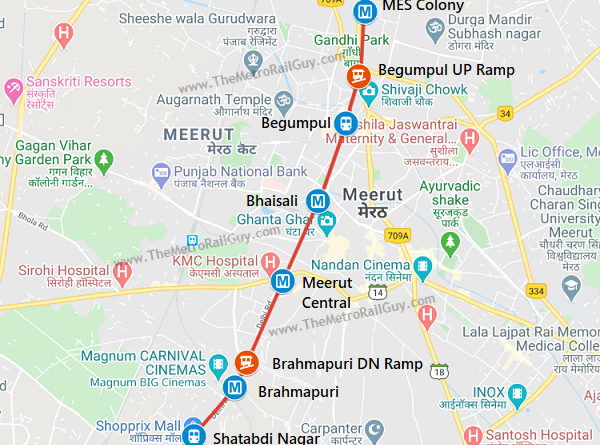 The machines will now be dismantled and transported to India via sea and re-assembled on site. Excerpt from Terratec's press release:
In early 2022, the first two machines will be launched from Bhaisali station where they will pass beneath the densely residential areas and commercial buildings. Then the third TBM, will travel through an extreme right radius towards the Begampul station. The geological conditions along the tunnel alignments will be sand, silt and clay.

For the geological conditions expected, the contractor selected three Ø7.51m EPB Tunnel Boring Machines equipped with Dome-Type CutterHeads. For added versatility, TERRATEC has designed the CutterHead to allow the cutting tools to be exchangeable for 17'' disc cutters, allowing the TBM to be able to bore through the D-walls and cope with the presence of any unexpected obstacle on its way, such as old wells or foundations.

As the TBMs progress, they will install 300mm thick x 1500mm long, reinforced concrete Universal-style, pre-cast lining rings – comprising six segments + key. Muck removal, segment transport and logistics supply will be via rolling stock using five number 45t battery locomotives (also supplied by TERRATEC).
All machines have been given the nickname Sudarshan + Package Number + Machine Number, so S88 is Sudarshan 8.1, S89 is Sudarshan 8.2, and S90 is Sudarshan 8.3.
Snaps from Terratec's facility in Guangzhou, China: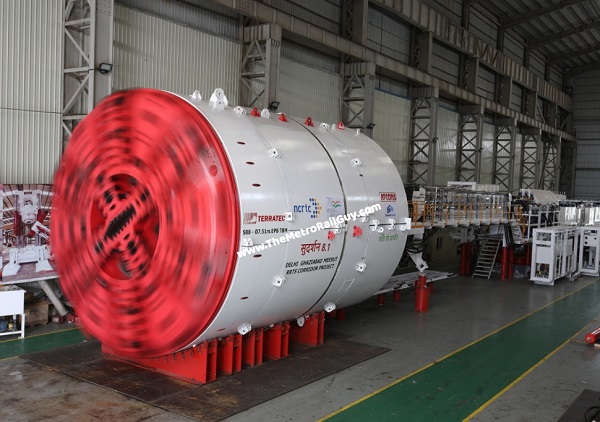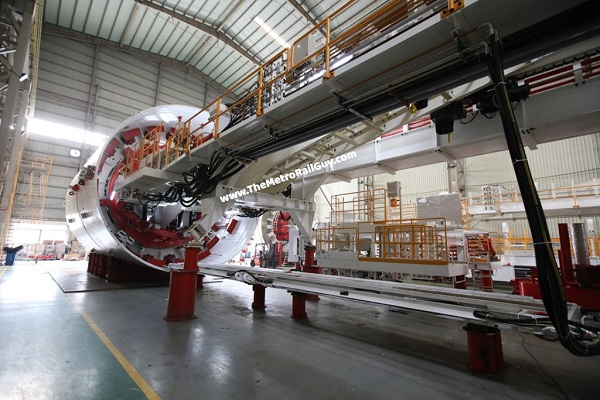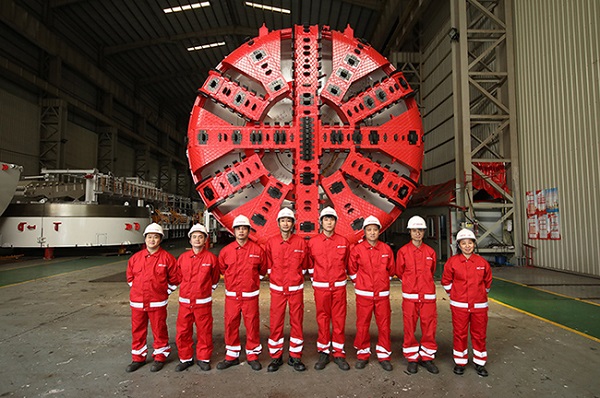 With a diameter of 7.51m, these are slightly larger than typical metro TBMs (ranging 6.45m to 6.68m) to allow the line's Alstom semi high-speed & MRTS trains to operate with sufficient clearance.
Shanghai Tunnel Engineering Co. Ltd. (STEC) working on Package 4 (New Ashok Nagar Down Ramp to Sahibabad UP Ramp) plans to deploy 4 TBMs and completed FAT back in October-November. I hear those machines are en route to Delhi right now.
For more updates, check out the RRTS section or my Home Page!
– TMRG