After the water tunneling project I covered the other day, here's another significant tunneling job from Mumbai that needed more coverage.
Tunnel boring machine S80 deployed by Michigan Engineers on Monday recorded its first and only breakthrough for the Mumbai Sewer Disposal Project (MSDP) Stage-II Priority Works project.
This 3.14m diameter Terratec EPB TBM, nicknamed Michigan-1, built the smallest diameter segmental sewer tunnel in India, with an internal diameter of 2.60m, below SV Road for resolving the problem of surcharge condition of sewer lines in Bandra and Khar neighborhoods.
The machine passed factory acceptance tests (FAT) in the summer of 2020 and became the 25th machine to be delivered to India. In Mumbai, this EPB was commissioned in December 2020 to build a 1.857 km tunnel for Municipal Corporation of Greater Mumbai (MCGM)'s sewage project from Bandra Influent Pumping Station to Jai Bharat Pumping Station.
ITD Cementation is the main contractor and Michigan Engineers is their sub-contractor responsible for all manpower and machinery.
The basic objective of the project is to provide a healthier and improved environment for Mumbaikars by improving the quality and reliability of wastewater collection, treatment and disposal, whilst minimizing the impact of wastewater on the environment.
The project has been designed to increase capacity of the existing sewage collection system in Zone 3 to carry a flow of 72 MLD – enough for meeting requirements up to 2051. It also aims to resolve flooding in the Railway Colony neighborhood and SV Road.
Following the project's inauguration, Jai Bharat and Chambai Pumping stations will be closed to save maintenance costs.
From Terratec's old press release:
The TBM has 25 rings of 17" rear replaceable disc cutters and a high torque main drive that is still capable of rotating up to 5 rpm. The TBM is equipped with a fully active articulation system to accommodate a minimum curve radius of 250m. Due to size constraints and the installation of a full hyperbaric man lock the TBM's main drive is hydraulic.

The 4+1 universal type segment design, (200mm thick by 1000mm long) reinforced concrete segments will be installed as the machine progresses by the mechanically actuated erector. Muck removal, segment transport and machine supply will be by TERRATEC rolling stock and battery locomotives.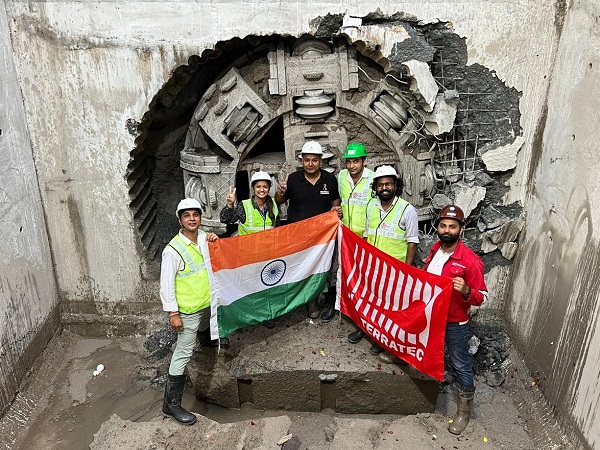 Co-incidentally, the largest tunnel boring machine to ever be deployed in India, TBM Mavala, also recorded its first breakthrough barely a week ago – see details & snaps.
For more updates, check out my Home Page! Sign up for free instant email notifications on new posts over here. Like this post? See how you can get early-access to updates and support the site over here.
– TMRG