Feb 1, 2022 Update: In January 2022, Patel Infra's TBM T83 excavated 653 meters beating Soma TBM T87's December 2021 progress – see details & snaps here
Jan 13, 2022 Original Post: While metro rail and road tunneling projects get all the attention on TMRG, here's a tunnel project of a different kind that I thought needed more visibility.
T87 – A Terratec tunnel boring machine (TBM) deployed by Soma Enterprise Ltd. for a water project in Mumbai tunneled an impressive distance of 526 meters in December 2021 without any fanfare.
This remarkable feat by the 3.2 m diameter Open Rock TBM was recorded for the Municipal Corporation of Greater Mumbai (MCGM)'s 9.683 km Amar Mahal-1 project to cater to the steadily growing water demands of eastern Mumbai.
The tunnel called AMT-I originates from Hedgewar Udyan (Amar Mahal) where the tunnel will be tapped from Mumbai-II & Mumbai-III on Eastern Express Highway. It will run from Hedgewar Udyan (Amar Mahal) up to Parel through Wadala (Pratiksha Nagar).
The AMT-1 project consists of two TBM drives totaling 9,683m in length between three shafts located at Hedgewar Udyan, Pratiksha Nagar and Parel at an average depth of 80 to 90m for water transfer.
Soma's T-87 has so far excavated more than 1 km in three months while maintaining an average progress of 300+ meters per month.
Terratec has become India's leading TBM supplier with over 40 TBMs of various sizes, ranging from 1.4m to 10m, excavating for various projects such as metro rail (see Delhi-Meerut RRTS, Pune Metro, Mumbai Metro), hydro, water, sewage, and mining projects. These have been deployed by leading contractors such as Larsen & Toubro, HCC, Afcons and others.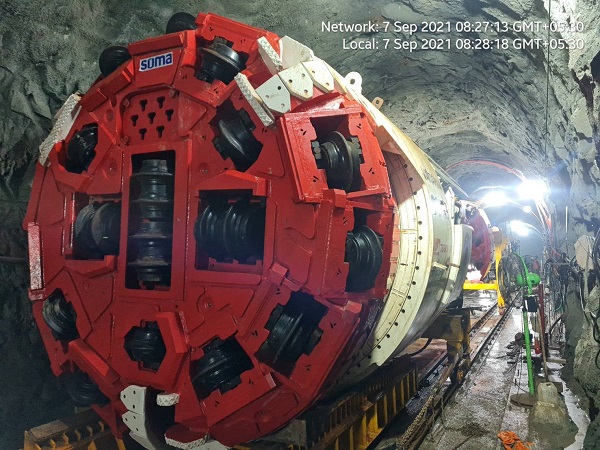 This project is one of the many projects quietly being executed by the Municipal Corporation of Greater Mumbai (MCGM) to augment water sources, improve distribution system and manage water demand & supply.
A major challenge of AMT-1 was to assemble the TBM at a depth of 110m inside the Amar Mahal job site's tail tunnel where space was extremely tight.
The first breakthrough at Pratiksha Nagar Shaft is expected to take place in Q1 2023. Following that, the machine will continue onward to Parel.
Patel Engineering Ltd. working on the 2nd part of the project called AMT-II has also deployed a Terratec Open Rock TBM. That machine called T-83 passed factory acceptance tests in September 2020 and is excavating 5.35 km from Amar Mahal (Hedgewar Udyan) to Trombay Low-Level Reservoir (TLLR) and further up to Trombay High-Level Reservoir (THLR) at depths ranging between 80 to 90m.
I've covered over 100+ TBM breakthroughs on my website, and while monitoring their progress I've observed Terratec's robust tailor-made machines have never accounted for any major downtime. Their TBMs have been performing excellently in varying geological conditions ranging from soft soil to mild to hard rock.
In fact, many a times Terratec machines have completed their assignments well ahead of schedule as observed in Lucknow Metro where S52 (Gomti) and S53 (Ganga) were deployed to build Package LKCC-06 in record time.
A couple reasons include the quick availability of spares from Terratec's central warehouse in Mumbai and a well-mobilized field service staff (including expatriate TBM experts) for deployment to any jobsite within a short notice.
For more updates, check out my Home Page! Sign up for free instant email notifications on new posts over here. Like this post? See how you can support the site over here.
– TMRG