Gujarat Metro Rail Corporation Limited (GMRC) on Friday launched the tendering process for the civil construction of Surat Metro's 18.74 km Line-2 which will connect Bhesan – Saroli via 18 stations.
This corridor of the 40.35 km Surat Metro Phase 1 will be entirely elevated and form of an interchange with Line-1 at Majura Gate in the heart of the city.
The tender notice published is for its 10.559 km western section which will run between Bhesan – Adajan – Majura Gate with 11 elevated stations en route. GMRC hasn't provided an estimate, which is fine, but surprisingly not even a completion period.
Tender Notification: GMRC/CONS/VDCT+STNS/PKG-CS5/PH-1/2022
Package: CS5
Estimate: Not Disclosed
Completion Period: Not Disclosed
Pre-bid Meeting: 11/02/2022 at 11:30:00
Bid Submission End Date: 14/03/2022 at 15:00:00
Bid Opening Date: 14/03/2022 at 15:30:00
Scope: Construction of 10.559 Km Elevated Viaduct and 11 Nos. Stations (Excl. E&M, Architectural Finishing and Roofing) From Bheshan Dead End (Ch. -949.63 m) to Majura Gate Station (Ch. 9090m) including Viaduct Ramp to Depot Entry near Bheshan for Surat Metro Rail Project Phase – 1, Corridor-2 (Package 1)
The 11 elevated stations in this package will be built at Bhesan, Botanical Garden, Ugat Vaarigruh, Palanpur Road, LP Savani School, Performing Art Centre, Adajan Gam, Aquarium, Badri Narayan Temple and Athwa Chopati.
Construction of Majura Gate Interchange Station is part of Package CS1's scope, which was awarded in January 2021 to Sadbhav Engineering – SP Singla Constructions JV.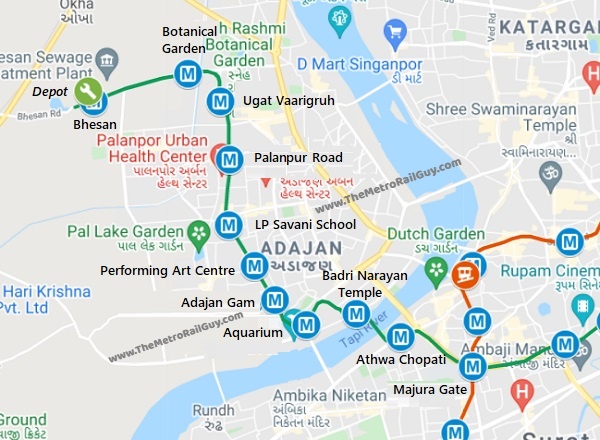 This civil package will be funded by Agence Française de Développement (AFD) through a 250 million (approx. Rs. 2205 crore) loan deal signed in February 2021.
With this development, tender notices are now pending for just the following civil contracts of Phase 1:
Line-1: Approx. 4 km Kapodra Ramp – Sarthana
Line-2: Approx. 8 km Majura Gate – Saroli
Line-2: Bhesan Depot
A list of all Phase 1 packages and their contractors can be viewed here.
For more updates, check out the Surat section or my Home Page! Sign up for free instant email notifications on new posts over here. Like this post? See how you can get early-access to updates and support the site over here.
– TMRG