Engineers from Patel Infrastructure on Thursday began pouring concrete to cast segments for Surat Metro Phase 1 project's 11.6 km Kadarsha Ni Nal – Dream City section.
8.5m wide segments cast at their yard in Dream City will be launched for the 21.61 km Line-1's Package CS1 viaduct which was awarded in January 2021 to Sadbhav Engineering – SP Singla Constructions (SEL-SPSCPL) JV. The consortium subcontracted out a portion of works to Patel Infra for an undisclosed amount.
Construction on the project was formally launched by PM Modi in January 2021 with a ceremonial bore taking place. Since then, SEL-SPSCPL JV has been engaged in piling activity. A new video shot by a local YouTuber in fact shows they've tied rebar for a couple piers as well.
The 10 stations in SEL-SPSCPL's section are coming up at Kadarsha Ni Nal, Majura Gate (interchange with Line-2: Bhesan – Saroli), Rupali Canal, Althan Tenament, Althan Gam, VIP Road, Woman ITI, Bhimrad, Convention Center and Dream City.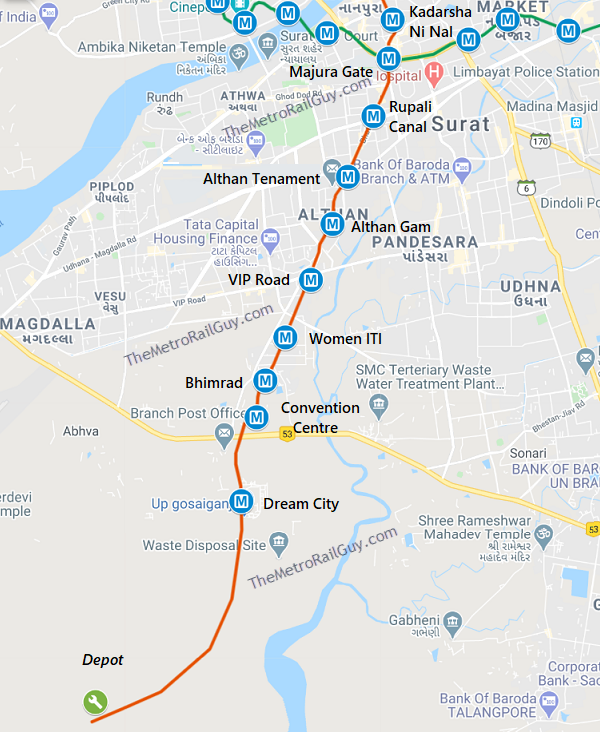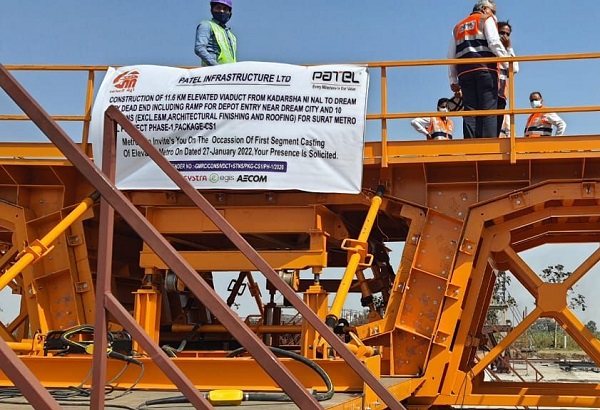 On Friday, GMRC invited bids to construct Line-2's first section between Bhesan – Adaraj – Majura Gate with 11 elevated stations – see scope & details.
For more updates, check out the Surat section or my Home Page! Sign up for free instant email notifications on new posts over here. Like this post? See how you can get early-access to updates and support the site over here.
– TMRG