Cengrs Geotechnica Pvt Ltd. has completed more than half of geotechnical investigation works along Yamuna Expressway for the construction of a new metro line between Greater Noida's Knowledge Park II and Jewar Airport.
This line's Detailed Project Report (DPR) is being prepared by Delhi Metro Rail Corporation (DMRC) through a MoU signed with Yamuna Expressway Industrial Development Authority (YEIDA).
Cengrs was awarded its Rs. 11.72 lakh geotechnical contract in December 2021 with a 10 week completion period. They plan to dig 41 boreholes up to a depth of 30 meters and perform a few additional in-situ tests.
This new line is expected to be approximately 35 km long featuring local and semi high-speed services. It'll run on a primarily elevated route with a short 2-4 km shallow underground section inside Jewar Airport's site which I expect would be built using the cut and cover method.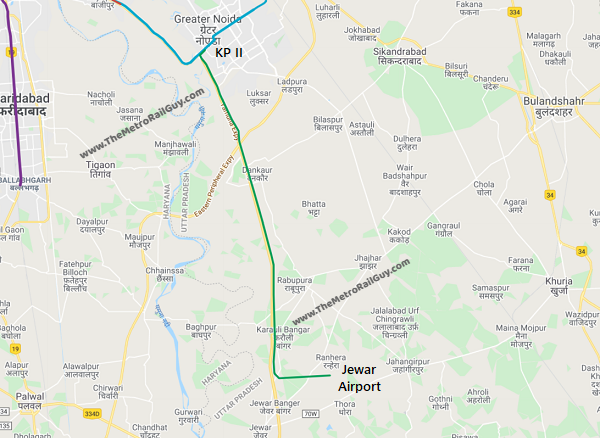 Schedule of Deliverables (see detailed scope here)
Inception Report: 10 days from the date of award of work
Completion of field work and submission of bore log details: 6 weeks from the date of award of work
Submission of final report: 10 weeks from the date of award of work
Details on Noida International Airport at Jewar can viewed on this dedicated info page.
In the past, metro stations on this line were planned at the following locations but we'll have to wait and see what the DPR suggests:
Greater Noida's Knowledge Park-II, Chi-I, Chi-II, Chi-III, Chi-IV, Gautam Budh University, Night Safari, Murshadpur, Yamuna Authority's Sector 26A, Noida International University, Galgotia University, Sector 17A, Sports City, Sector 22A, Sector 22B, Sector 18A, Sector 22C, Sector 19, Sector 2, Sector 20, Sector 21, Sector 28, Sector 29, Nagla Hukum Singh and Jewar Airport.
The results from this contract's investigation and other local survey/field-work will go into preparing the first draft of this line's DPR which I expect would get ready in mid-2022 for dissemination and feedback from YEIDA's board members and other local stakeholders.
For more updates, check out the Noida Metro section, Delhi Metro section or my Home Page! Sign up for free instant email notifications on new posts over here. Like this post? See how you can get early-access to updates and support the site over here.
– TMRG