India's National High Speed Rail Corporation Ltd. (NHSRCL) on Thursday cancelled the tendering process to construct 20.377 km Package C-2 of the 508.17 km Mumbai – Ahmedabad High Speed Rail (MAHSR Bullet Train) project.
Underground Package C2 of the main-line connects Bandra Kurla Complex Station (chainage Km 0.773) with Shilphata (Km 21.150) and consist of roughly 3 km "undersea" twin tunnels below Thane Creek. The appointed contractor will be required to use at least 3 Mega TBMs with a diameter of roughly 14.5 meters.
No official reasoning has been provided although industry sources tell me it's tied to land acquisition for the TBM shafts, especially the Bandra Kurla Complex Station's land where a pop-up COVID hospital was built in 2020.
This is the second time C2's tender has been cancelled.
NHSRCL had originally invited bids for this package in 2019 with a clause requiring a Japanese contractor to be the prime / lead partner in case of a joint-venture. That round received zero bids. NHRSCL re-invited tenders in November 2021, with a 1888 days (5.17 years) completion period, in which that clause was done away with.
IFB Number: Package No. MAHSR-C-2
Brief Scope: Construction of Tunnelling Works including Testing and Commissioning for Double Line High Speed Railway using (TBM) and (NATM) between Mumbai Underground Station at Bandra-Kurla Complex (MAHSR Km. 0.773) and Shilphata (MAHSR Km. 21.150).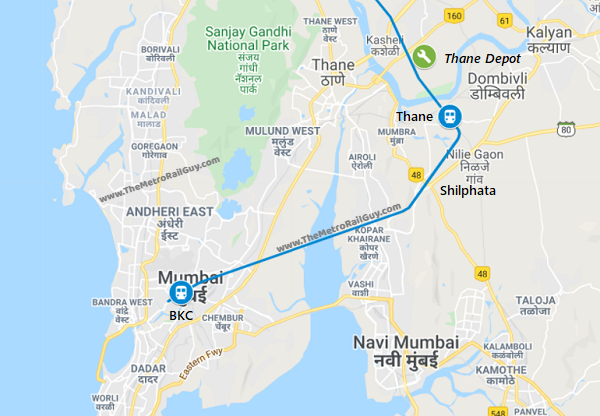 NHSRCL and its stakeholders have made significant progress in land acquisition over the past quarter. In Maharashtra, it now reportedly stands at 62% – a significant bump up from 35% in November 2021 when tenders were re-invited.
All 5 civil packages have been awarded in Gujarat, while Maharashtra's 3 packages are either dead (C2 & C3) or under bidding (C1). A list of all bullet train civil packages and their status can be viewed here.
For more updates, check out the High Speed Rail section or my Home Page! Sign up for free instant email notifications on new posts over here. Like this post? See how you can get early-access to updates and support the site over here.
– TMRG