3 bidders (2 in a consortium) have been shortlisted by Delhi Metro Rail Corporation (DMRC) to provide consultancy services (contract DCS-1B) for implementing Delhi Metro's Phase 4.
Delhi's 65.1 km Phase 4 project is well under construction and includes 1 new line (23.62 km Silver Line: Aerocity-Tughlakabad) and the extension of the Magenta Line (28.92 km Janakpuri West – R.K.Ashram) and Pink Line (12.58 km Mukundpur – Maujpur).
DMRC had invited Expression of Interest (EOI) applications for this contract in May 2021 with an unknown estimate and 1620 day contractual period. Applications were opened in July 2021 to reveal 6 consortia had expressed interest.
Qualified Bidders
DB Engineering and Consulting GmbH
MM S.p.A – SMEC International – Hill International JV
SYSTRA – OCG – Nippon Koei – RITES JV
Disqualified Bidders
AYESA – BARSYL JV
Egis Rail – Padeco – Mott Macdonald JV
Rina Consulting – TYPSA – Yuksel – Artelia JV
Brief Name of EOI: Short Listing of Consultants for Consultancy Services for implementation of Delhi MRTS Project Phase-IV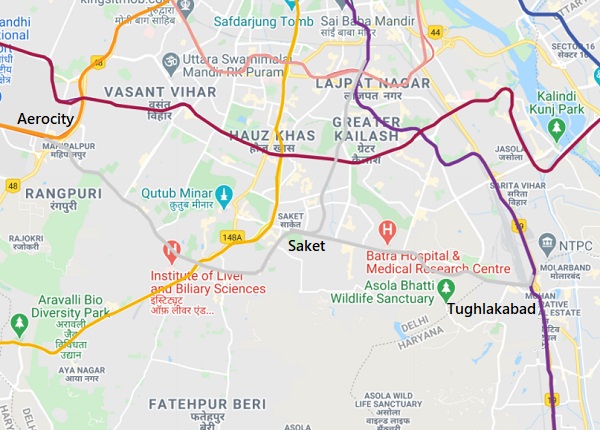 DMRC's brief scope for the consultant can be viewed here. They will now issue a request for proposal (RFP) to the 3 shortlisted bidders and evaluate their technical & financial proposals – all of which I estimate will take a good 9-12 months.
Final selection of the consultant will be made based on the 80:20 Quality and Cost Based Selection (QCBS) with 80% weightage on technical score and 20% weightage on financial score.
For more updates, check out the Delhi Metro section or my Home Page! Sign up for free instant email notifications on new posts over here. Like this post? See how you can get early-access to updates and support the site over here.
– TMRG