Gulermak – Sam India Builtwell JV on Saturday began work to construct the diaphragm wall (D-wall) of Kanpur Metro's Chunniganj Station on Package KNPCC-05.
This station on the 32.385 km Phase 1 project's first underground section (Permat Ramp – Nayaganj) is the last of 4 stations where grabbing and trenching activity has finally started due to land acquisition issues.
3.964 km Package KNPCC-05's construction contract was awarded to Gulermak – Sam India in March 2021 with a combined value of Rs. 769.23 crore & USD 3.674 million.
Their scope includes building twin tunnels from a ramp at Permat (east of Motijheel Station) to Nayaganj via four stations at Chunniganj, Naveen Market, Bada Chauraha and Nayaganj – each 215 meters long.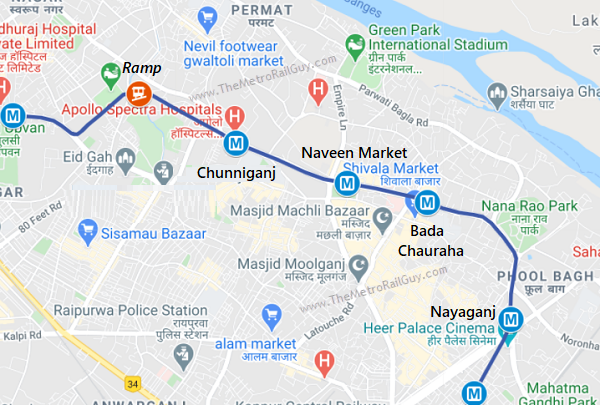 Some snaps from Chunniganj Station's site in front of BNSD Inter College via UPMRC:
UPMRC expects similar work at Naveen Market Station and Bada Chauraha Station to be over in April. Per them, 87 / 102 D-wall panels have been installed at Naveen Market, 84/100 panels at Bada Chauraha and 68/107 at Nayaganj Station.
Here's my go-to video to demonstrate how D-walls are built to form the boundary wall of station boxes:
Gulermak-Sam plans to deploy 2 Terratec Earth Pressure Balance (EPB) machines, S92 and S93, in the coming months from Bada Chauraha Station – see snaps and tunneling plan here.
For more updates, check out the Kanpur section or my Home Page! Sign up for free instant email notifications on new posts over here. Like this post? See how you can get early-access to updates and support the site over here.
– TMRG