Nine construction firms have submitted bids for the new terminal building of Saharanpur Airport in Uttar Pradesh after Airports Authority of India (AAI) opened technical bids today.
Saharanpur's 2000 sq m new terminal will be located on a 65 acre land parcel within the operational Sarsawa Air Force Station just west of Saharanpur (view on Google Maps).
On the air-side, the project includes a new 111m x 73m apron for ATR-72 / Q400 type aircraft, 23m taxiway, and temporary air traffic control (ATC) tower.
AAI invited tenders for construction work in March 2022 with a Rs. 36.87 crore estimate and 300 day completion deadline.
Bidders
Ahluwalia Contracts (India) ltd.
Amaranttoss Infratech Pvt Ltd.
Asha Enterprises Pvt. Ltd.
Creative Prefab Const. Co. Pvt. Ltd.
Epack Polymers Pvt. Ltd.
Mukesh Ranjan Contractors
SGB Infra Ltd.
S K Integrated Consultants
Vascon Engineers Ltd.
Brief Scope: Development of Sarsawa (Saharanpur) Airport on Design and Build Basis, SH Construction of Pre-Engineered Terminal Building and Associated Works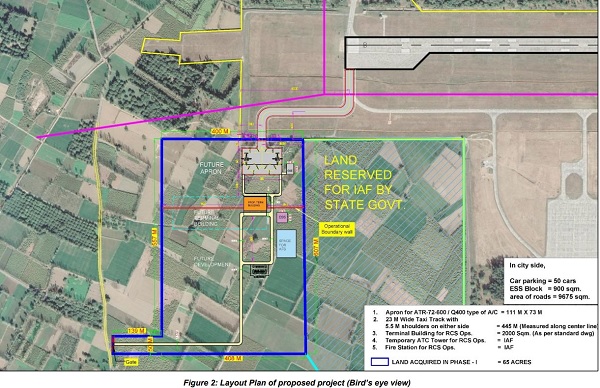 I don't expect the terminal building to be anything fancy like others coming up around the country – Imphal Airport, Gwalior Airport, Rajkot Airport etc.
Anyhow, the bids have now been sent for technical evaluation which can take a couple months to complete. When that is done, the financial bids of the technically qualified bidders will be opened to reveal who's the lowest bidder and most likely contractor.
Saharanpur Airport will be connected to regional airports such as Lucknow, Prayagaraj, Varanasi etc. under the government's regional connectivity scheme UDAN (Ude Desh ka Aam Naagrik).
10 other airports / civil enclaves are planned to be developed in UP's towns of Aligarh, Ayodhya, Azamgarh, Chitrakoot, Jhansi, Lalitpur, Moradabad, Noida (see details), Shravasti and Sonbhadra.
For more updates, check out the Airports section or my Home Page! Sign up for free instant email notifications on new posts over here. Like this post? See how you can get early-access to updates and support the site over here.
– TMRG