10 design & engineering firms have submitted bids to create a Detailed Project Report (DPR) for Bangalore Metro's new 37 km Hebbal – Sarjapur metro line.
Bangalore Metro Rail Corporation Ltd. (BMRCL) had invited tenders for this consultancy service in April 2022 just weeks after Karnataka's Chief Minister announced the re-addition of the line to future plans, possibly Phase 3, at an estimated cost of Rs. 15,000 crore.
This new line will cut through the city's core and connect Carmeleram, Agara, Koramangala, Dairy Circle, Central College and Armane Nagar.
BMRCL's estimate remains unknown and the completion period specified is listed at 8 months.
Bidders
Aarvee Associates Architects Engineers and Consultants Private Ltd.
Balaji Railroad Systems Private Ltd. (BARSYL)
Consulting Engineers Group (CEG)
Delhi Integrated Multi-Modal Transit System (DIMMTS)
Korea Railroad Technical Corporation
Rina Consulting SpA
RITES Ltd.
Systra MVA Consulting (India)
Tractebel Engineering
Urban Mass Transit Company Ltd. (UMTC)
RFP: BMRCL/Phase-3/DPR (Sarjapura to Hebbala)/Consultancy/2022/88
Brief Scope: Preparation of Detailed Project Report (DPR) for Metro Rail Corridor of length 37 km connecting Sarjapura to Hebbala through Agara, Koramangala and Dairy Circle for Bangalore Metro Rail Project, Phase-3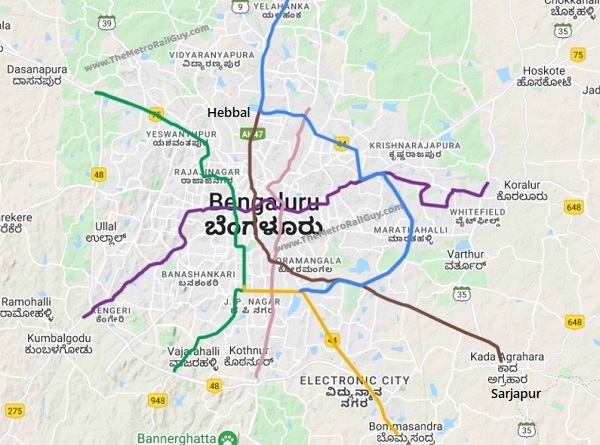 The bids have now been sent for technical bid evaluation which can take a couple months to complete. When that is done, the financial bids of the technically qualified bidders will be opened to reveal who's the lowest bidder and most likely consultant.
The DPR will provide a baseline of the line's length, underground & elevated route composition, number of stations, their locations, depot, coach requirement, ridership projection, operational game plan, total cost etc.
If things go according to the tender notice's prescribed schedule, then we should see a consultant getting appointed in late Q3 (July-September) and perhaps a glimpse of the DPR's first draft, if BMRCL chooses to share, in Q2 2023 (April – June).
For more updates, check out the Bangalore section or my Home Page! Sign up for free instant email notifications on new posts over here. Like this post? See how you can get early-access to updates and support the site over here.
– TMRG
Hat-tip: Naveen Menezes