Mumbai Metro Rail Corporation (MMRC) on Tuesday invited tenders to prepare a Detailed Project Report for extending Mumbai Metro's 33.5 km Line-3 (Aqua Line) from Cuffe Parade to Navy Nagar in Colaba.
This southern extension of the line was first announced in March 2022 by Maharashtra's former Deputy Chief Minister. The underground extension will be approximately 2.5 km long with a new terminal station planned near the Tata Institute of Fundamental Research Centre (TIFR).
The tender's scope also includes preparation of Environment Impact Assessment (EIA) & Social Impact Assessment (SIA) reports.
Completion Period: 32 weeks (8 months)
Pre-bid Meeting: 10/08/2022
Last Date of Submission: 01/09/2022 (16:00 Hours)
Opening of Technical Bid: 01/09/2022 (17:00 Hours)
Brief Scope: Preparation of Detailed Project Report (DPR), Environment Impact Assessment (EIA) & Social Impact Assessment (SIA) Report for Southern Extension of Mumbai Metro Line-3 from Cuffe Parade to Navy Nagar
Here's my quick purely fictional take on how the extension might look like: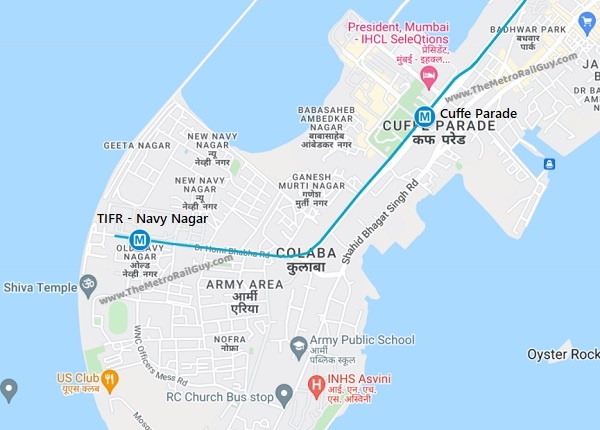 Cuffe Parade Station is under construction by L&T – STEC JV and comes with 190 meter NATM-built stabling lines at the extreme southern-end of its 405 meter station box – see details & images here.
Per the tender document, MMRC undertook a Pre-Feasibility study based on which an alignment has been finalized in a joint deliberation with the Indian Navy's Western Naval Command (WNC) officials.
Features:
250 m long station is proposed in-front of TIFR on Dr. Homi Bhabha Road with approx. 2.5 km extension of tunnel from current terminal point near Ambedkar Nagar.
Double side platform station including cross-over before & after metro station (25 other stations have island platform).
With extension, the stabling facilities created south of Cuffe Parade will no more be available. Therefore, an underground (U/G) stabling facility is proposed below BEST's Backbay Bus Depot, and adjoining heliport land and slums.
A turnout provided after Cuffe Parade station to enter into U/G stabling below Backbay Bus Depot
If things go according to the prescribed schedule, then we should see a consultant appointed in Q4 2022 and the first draft, if MMRC chooses to share, in Q2 2023. Post finalization, the DPR will then go through the regular motions of approvals with funding being secured parallelly. I don't see construction starting until at least 2025.
For more updates, check out the Mumbai section or my Home Page! Sign up for free instant email notifications on new posts over here. Like this post? See how you can get early-access to updates and support the site over here.
– TMRG