4 design and engineering firms on Friday submitted bids for the Detailed Design Consultant (DDC) contract of a new Automated People Mover (APM) system under Delhi's Central Vista.
This roughly 3 km long underground ring line with 4 proposed stations will connect the Delhi Metro's operational Central Secretariat Station, serving yellow & violet lines, with new government buildings coming up as part of the Central Vista Redevelopment project.
A Memorandum of Understanding (MoU) for its development was signed in February 2022 by the Central Public Works Department (CPWD) and Delhi Metro Rail Corporation (DMRC).
DMRC then invited tenders for its DDC contract in May 2022 with a Rs. 8.07 crore estimate and 2880 day (7.89 year) deadline.
Bidders
Ayesa India Pvt. Ltd.
Consulting Engineers Group Ltd. (CEG)
Egis India Consulting Engineers Pvt. Ltd.
SYSTRA MVA Consulting (India) Pvt. Ltd.
Package: DCCD-04
Scope: Engagement of Detail Design Consultant (DDC) for Civil, Architectural and Building Services including EandM works for proposed underground Automatic People Mover (APM) system at Central Vista
As shared earlier this year, here's my quick purely fictional take on how the line might look like with 4 stations at or near the vicinity of Central Secretariat, Indira Gandhi National Centre for the Arts (IGNCA), Vigyan Bhavan Annexe and Ministry Of External Affairs Jawaharlal Nehru Bhawan.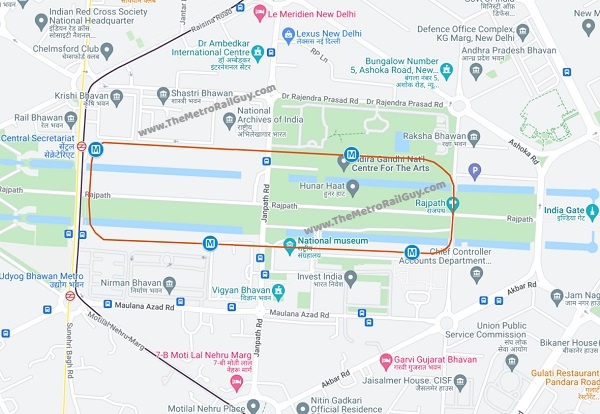 The bids have now been sent for technical evaluation which can take a couple months to complete. When that is done, the financial bids of the technically qualified bidders will be opened to reveal who's the lowest bidder and most likely consultant.
The system's Detailed Project Report (DPR) was prepared by DMRC and they're expecting a peak hour demand of 20,000 passengers per hour during morning and evening hours.
Delhi has another APM system proposed at IGI Airport which I believe has a more urgent requirement – the Delhi Air Train project. Also check out the IGI Airport Upgrade page I set up earlier this year.
For more updates, check out the Delhi Metro section or my Home Page! Sign up for free instant email notifications on new posts over here. Like this post? Get early-access to updates and support the site over here.
– TMRG