Asian Development Bank (ADB) and Japan International Cooperation Agency (JICA) this year officially started appraising loan proposals to finance the 106.5 km Delhi – SNB (Shahjahanpur – Neemrana – Behrod) Regional Rapid Transit System (RRTS) line.
These loans are in addition to the World Bank's $457 million proposed loan. Their name as a project financer first appeared in 2020 within the Environmental and Social Impact Assessment (ESIA) tender document.
ADB: $1.3 Billion Loan
The Asian Development Bank's updated website indicates that on October 11 its team cleared a concept proposal to provide a USD $1,382 million loan for the project.
ADB is currently financing the 82.15 km Delhi – Meerut RRTS line's development through a $1.049 billion loan approved by its board in August 2020.
Their roughly Rs. 11,416 crore proposed new loan will be applied towards the construction and systems procurement of Delhi-NCR's second semi high-speed rail line.
Like the Meerut line, the line to SNB will also have a design speed of 180 km per hour and an operating speed of 160 km per hour. In the future, it will be extended southward to Sotanala by 35 km and to Alwar by 58 km.
JICA: $890 Million Loan
In addition, NCRTC has been in talks with the Japan International Cooperation Agency (JICA) since at least 2019. World Bank's project information document reveals JICA is appraising a USD 890 million (Rs. 7352 crore) loan for it.
This line will consist of 16 stations at Sarai Kale Khan, INA, Munirka, Aerocity, Udyog Vihar, Gurugram Sector 17, Rajiv Chowk, Kherki Daula, Manesar, Panchgaon, Bilaspur, Dharuhera, MBIR, Rewari, Bawal and Shahjahanpur – Neemrana – Behrod (SNB).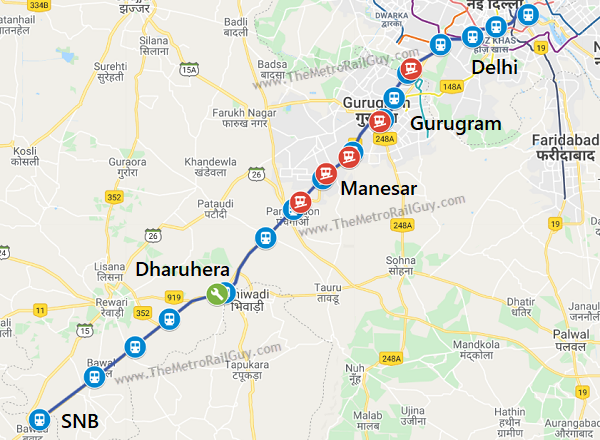 There's a long way to go before we see any sort of bidding activity for the line's construction. ADB reveals their team will perform a fact finding mission between 13-23 March 2023 followed by a management review meeting (MRM) tentatively on June 15, 2023 prior to board approval.
That final board approval is dependent on the Central Government's approval which I expect should happen in the run up to the 2024 Lok Sabha election.
Back in July, SYSTRA – Egis Rail – Consulting Engineers Group JV emerged as the preferred bidder for the line's General Consultant (GC) contract. A contract with the National Capital Region Transport Corporation (NCRTC) to assist with its speedy implementation is expected to be signed only after the project is approved.
A list of all contracts (detailed design consultancy, utility shifting) awarded so far can be viewed here.
For more updates, check out the RRTS section or my Home Page! Sign up for free instant email notifications on new posts over here. Like this post? Get early-access to updates and support the site over here.
– TMRG