SYSTRA – Egis Rail – Consulting Engineers Group JV has emerged as the preferred bidder for the General Consultant (GC) work of the 106.5 km Delhi – SNB (Shahjahanpur – Neemrana – Behrod) Regional Rapid Transit System (RRTS) line.
Like the 82.15 km Delhi – Meerut RRTS line, the upcoming Delhi – SNB semi high-speed RRTS line will also have a design speed of 180 km per hour and an operating speed of 160 km per hour. In the future, it will be extended further southward to Sotanala by 35 km and to Alwar by 58 km.
National Capital Region Transport Corporation (NCRTC) had invited tenders (bids) for this vital consultancy service in October 2020 to speedily implement this line through assistance in design, supervision, safety, quality control and contract management.
Technical bids were opened in November 2021 to reveal 4 bidders and financial bids were opened on June 9. SYSTRA – EGIS – CEG JV was selected as the preferred bidder, through the Quality and Cost-Based Selection (QCBS) method after adding technical & financial scores.
Bid Values & Total Scores
| | | |
| --- | --- | --- |
| Bidder | Bid (Rs. Crore) | Total Score |
| SYSTRA – EGIS – CEG JV | 205.99 | 86.86 |
| RITES – YUKSEL – RINA – PEMS JV | 179.98 | 80.92 |
| DB – KRNA JV | 203.05 | 80.44 |
| AYESA – MM S.p.A JV | 193.17 | 79.44 |
Bid Reference: DA/GC/COR-OF/023
Brief Scope: National Capital Region Transport Corporation Ltd. (NCRTC), a joint venture Company of Government of India and participating States invites open e-bids (open competitive bidding (OCB)) (Electronic bid) for the following contract package: Engagement of General Consultant for Delhi-Gurugram-SNB Regional Rapid Transit System (RRTS) Corridor.
This line will consist of 16 stations at Sarai Kale Khan, INA, Munirka, Aerocity, Udyog Vihar, Gurugram Sector 17, Rajiv Chowk, Kherki Daula, Manesar, Panchgaon, Bilaspur, Dharuhera, MBIR, Rewari, Bawal and Shahjahanpur – Neemrana – Behrod (SNB).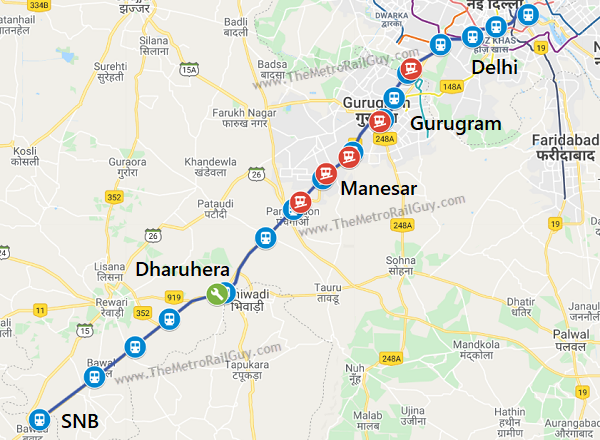 NCRTC expects the general consultant to be onboard for at least 60 months (5 years).
Back in November 2020 – KEC International started building a couple of piers in Gurgaon through a subcontract by GR Infraprojects Ltd. (GRIL). A video showing how the piers currently look like can be viewed in this video by RSLive.
NCRTC has since 2020 been in talks with Japan International Cooperation Agency (JICA) and the World Bank to finance this RRTS line's development for yet-to-be disclosed loan amounts. I haven't heard of any loan deal(s) being close to finalization yet.
Since then, design and utility shifting works (construction prep-work) have been underway at various sites. A list of contracts awarded so far can be viewed here.
For more updates, check out the RRTS section or my Home Page! Sign up for free instant email notifications on new posts over here. Like this post? See how you can get early-access to updates and support the site over here.
– TMRG